GAZA CITY, 19 March 2009 (IRIN) — The main kitchenware supplier in Gaza, Al-Dahshan Company, last received a shipment from Israel over two years ago through the Karni crossing.
Karni, the only commercial crossing with the facilities to allow large numbers of trucks to enter Gaza, has been closed since June 2007 except for the conveyor belt that operates for grain deliveries.
"I only have 20 percent of my goods in stock, there are no plates, glasses or mugs," said owner Jalal Al-Dahshan from his distribution centre in Saha, Gaza City's main commercial district.  "Two years ago six teacups cost US$1.  Today they cost $5."  Al-Dahshan supplies about 100 shops in Gaza.
Jalal's father, Nahed, runs their sister company, MN International Al-Dahshan, from the Guangzhou free trade zone in China.
"There are about 35 Gazan companies with offices in China," according to an MN International Al-Dahshan representative in Guangzhou, who spoke to IRIN on the phone on condition of anonymity.
Goods from Guangzhou take a circuitous route before reaching Gaza, according to the representative: Shipped first to Port Said, a duty-free port in northeastern Egypt, they are then taken to the Egyptian side of Rafah, via Al-Arish, before being smuggled into Gaza by tunnel.
"Each small box costs US$30 to enter Gaza via tunnel and there are about 4,000 boxes per container," said the representative.  He reckoned about 400 Chinese companies exported goods to Gaza, including IT products, furniture and clothing.
Vital Lifeline
The tunnels remain a vital lifeline for Gazans, supplying the market with goods restricted from entering Gaza through the Israeli-controlled crossings, said the UN Office for the Coordination of Humanitarian Affairs (OCHA).
However, "tunnel products" are poor quality and expensive, according to Gaza residents.
Since the Israeli blockade of Gaza in June 2007, the tunnels have increasingly been used to send in humanitarian items, including medical supplies, fuel and food products.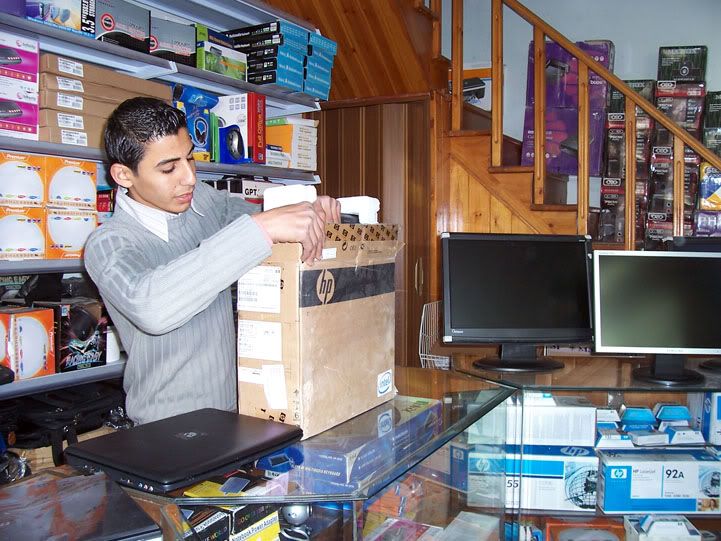 Mohamed Ahmed, 29, is manager of "PC World" computer shop in Rimal, Gaza City.  The shop supplies Gaza residents with computers and IT equipment that enter Gaza via tunnels from Egypt, often getting damaged along the way. Photo: Erica Silverman/IRIN.
The Gaza government's head of borders and crossings, Ghazi Hamad, told IRIN: "Hygiene products like soap, shampoo and washing powder only come from the tunnels."  OCHA field officer in Gaza Hamada al-Bayari said no IT supplies enter Gaza via Israel, implying that if they came in at all, it was by tunnel.
Israel routinely retaliates against cross-border rocket fire by bombing the tunnels, which it says are being used by Hamas to smuggle weapons, according to announcements made by the Israeli military emailed to journalists.
During the 22-day Israeli offensive which ended on 18 January 2009 many tunnels were destroyed or damaged, according to the same announcements.  Hamad estimated that about 400 tunnels are still operating along the 12km Gaza-Egypt border, although before the conflict there were said to be some 1,000.
In February Israel allowed about 127 trucks per day to enter Gaza, according to OCHA.  In May 2007, before the Hamas takeover, about 475 trucks entered daily.
---
This article was published by IRIN on 19 March 2009.
---