Washington, DC – A poll commissioned by The Israel Project, an international non-profit formed to present a "more positive public face" for Israel, has found a strikingly large percentage of Americans view Iran as a major threat, leading them to support possible military action.  Serious questions remain however about the validity of the results due to a number of flaws in the poll's methodology.
The survey gauged the opinion of 800 likely American voters on issues ranging from their support for Israel to the degree to which they feel Iran threatens the US.  Surveys were taken over the phone between July 23 and 27, and the group also performed similar polls of adults in Germany and the UK.
According to the poll, 63 percent of Americans would approve of Israel taking targeted military action against Iran's nuclear sites to preclude an Iranian nuclear weapon if diplomacy fails.
In addition, 90 percent of respondents believe Iran would share nuclear technology or materials with terrorist organizations if it acquired nuclear weapons.  55 percent say they would approve of the United States and its allies striking Iran's nuclear facilities.
Such strong results are surprising in light of a Gallup poll conducted this summer in which 59 percent of Americans said they favor diplomatic engagement with Iran.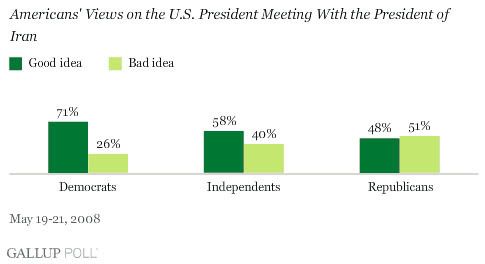 A number of irregularities have caused some to question the poll.  Of particular concern is the way in which the findings were released — no explanation of methodology was presented, making it hard to determine the validity of the results.  Also, some have charged that a number of the questions are misleading and come from a source that has been criticized in the past for improper polling methods.
Critics have argued that respondents were asked leading questions and then read alarmist headlines from news clips with questionable accuracy.  This methodology made the responses a foregone conclusion, they maintain.
Frank Luntz, one of the lead pollsters for this project, has been reprimanded by the American Association for Public Opinion Research or refusing to release poll data to support his claimed results.  He has also been censured by the National Council on Public Polls "for allegedly mischaracterizing on MSNBC the results of focus groups he conducted during the [2000] Republican Convention."  In a video piece, entertainers and libertarians Penn & Teller lambasted Luntz for his comment that the key to survey polling is "to ask a question in the way that you get the right answer."
Other questions in the poll also assume Iran is still actively pursuing a nuclear weapon, despite the December 2007 National Intelligence Estimate on Iran which declared with high confidence that Tehran halted its nuclear weapons program in 2003.
In total, 91 percent of American likely voters agreed that Iran poses a threat to Israel, with 88 percent viewing Iran as a threat to the United States.  Strangely, that number goes down to 87 percent when asked if the United States would be threatened if Iran were to acquire nuclear weapons.
Among those polled, 62 percent say there is still an opportunity to pursue a diplomatic solution with Iran, while 34 percent say diplomacy with Iran has already been exhausted and we need to explore other options.
The Israel Project is also currently engaged in a major TV and print ad campaign at the Democratic and Republican National Conventions focusing on the threat of a nuclear-armed Iran.  According to Jennifer Laszlo Mizrahi, founder and president of The Israel Project, "The nuclear clock is ticking faster than the diplomatic clock and time is running out."
---
This article first appeared on the Web site of the National Iranian American Council on 3 September 2008, and it is reproduced here for educational purposes.
---

|
| Print
---