A Tehran Bureau correspondent in Germany reports on the IranHaus celebration of "cultural dialogue" held at the International Conference Center in Hamburg on 14 March 2010, featuring Esfandiar Rahim Mashaei.  "A number of young Iranians were there," the sight of whom the pro-Green Tehran Bureau correspondent found "very disheartening."  According to the correspondent, Mashaei, "the genie of the evening," really rocked the (very much bourgeois) Haus:
Mashai's speech resembled a poetry reading.  Words such as "spring," "love," "beauty," "humanity," "purity," and "truth" were repeatedly invoked.  His extended verse was embedded with subliminal political messages.  He spoke of "building bridges between Iran and the Iranian community in Germany and strengthening cultural and economic ties."  He talked of Nowrooz as the most beautiful of all Iranian cultural heritages, describing it as the "the awakening of love and beauty."  He shared the Islamic Republic's Nowrouz resolution, which is "peace, truth, and love."  He declared, "We are proud of having these Iranian traits."  Every once in a while, someone in the audience would sigh with admiration and whisper "yes, yes" in agreement.  The atmosphere in the room became increasingly elated as Mashai made an appeal: "Be jameh shirineh Iraniha bepeyvandid" — "Come join the sweet Iranian crowd."  The audience joyfully applauded.  Soon came his crucial line of the evening, directed at America and Israel: "Siaasate zoor dar donya dige javab nemideh" — "Forceful governance no longer resonates in the world."  The audience cheered almost hysterically this time.
As the embers of the hotly contested 2009 Iranian presidential elections still smolder, it may be thought too early to speculate on the next presidential elections, but let's give it a go: on one hand, he is among the most likely to be disqualified by the Guardian Council; on the other hand, he would be the most entertaining candidate, who can help the Islamic Republic lighten up and keep Persian gossip columns busy.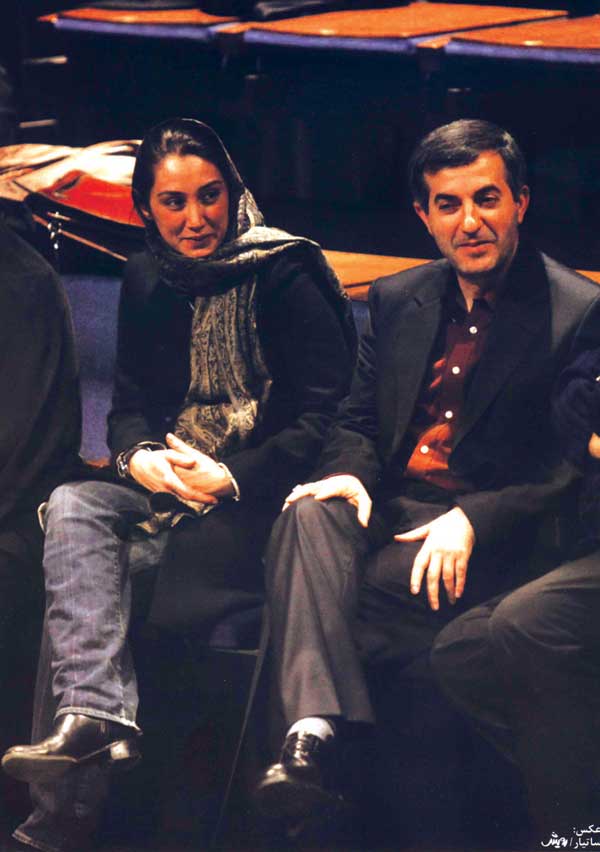 Esfandiar Rahim Mashaei sits next to Hedieh Tehrani, an actress and painter, whose most expensive artwork (3,700,000 toman, about $3,738) Mashaei reportedly purchased. . . .
---
Yoshie Furuhashi is editor of MRZine.
---


|
| Print
---