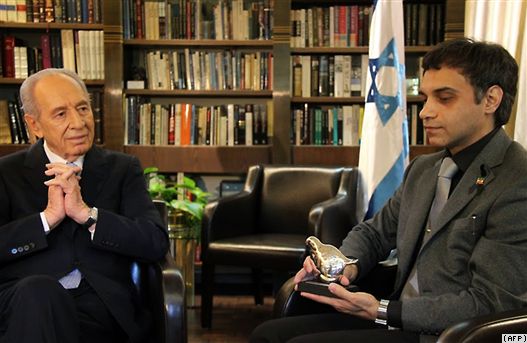 Caspian Makan with Shimon Peres, 22 March 2010

Caspian Makan on Channel 2
Neda Agha Soltan's fiancé Caspian Makan, who has been lionized in the West as an Iranian "dissident" on account of his claim that she was shot by basij, visited Israel as guest of Israel's Channel 2.  He was given a hero's welcome, honored by the president of Israel, Shimon Peres, himself.  According to a press release issued by the office of the Israeli president ("President Peres Meets Iranian Protestor," 23 March 2010):
Makin [sic] responded to President Peres warmly, "I am very surprised by your words.  Your words express in the most beautiful way possible all the feelings I have saved in my heart.  I am moved by my visit to Israel because this is a country managed well, a country which respect all its citizens.  The Israeli people enjoy total freedom and this stands in stark contrast to what occurs under the Iranian regime and its leaders.  To my sorrow, the proof of this difference is the murder of my fiancée Neda."
This story has been so far covered by four kinds of English-language media: Israeli media, diaspora Jewish media, Iranian state media, and Iranian opposition media: e.g., "Neda's Fiance: Iran Will Be Free" (Jerusalem Post, 19 March 2010); "Fiance of Slain Iran Protestor Meets Peres in Israel Trip" (Haaretz, 23 March 2010); "Caspian Makin, Fiancé of Neda Soltan, in Israel as 'Ambassador of the Iranian People'" (European Jewish Press, 23 March 2010); "Peres Meets Fiance of Murdered Irani" (Jewish Telegraphic Agency, 23 March 2010); "Neda Agha Soltan's 'Fiancé' Meets Peres" (Press TV, 24 March 2010); "In Defence of Caspian Makan" (Iranian.com, 24 March 2010); Jahangir Salehian, "A Step Too Far" (Tehran Bureau, 25 March 2010).
However, this absolutely fascinating story has been met by studied silence on the part of much of the Western media, from left to right to center (minor exceptions are blogs hosted by Radio Free Europe/Radio Liberty and the Los Angeles Times); evidently, the Western media couldn't find a way to frame it easily to suit their respective propaganda needs regarding the Islamic Republic of Iran.
Makan's visit to Israel, by the way, follows on the heel of his appearance at the Geneva Summit for Human Rights, Tolerance and Democracy, a summit sponsored by such right-wing organizations as the Cuban Democratic Directorate, Freedom House, and UN Watch.
---
Yoshie Furuhashi is Editor of MRZine.
---


|
| Print
---