11 October 2010 — The daughter of the celebrated revolutionary Che Guevara, who is currently visiting Lebanon, met on Sunday the number two leader of Hezbollah after visiting southern Lebanon where she received a plaque in homage to her father and the martyr Imad Mughniyeh.
Aleida Guevara, the eldest daughter of Ernesto Che Guevara, was received by Sheikh Naim Qassem, with whom she discussed "the importance of the resistance of peoples facing the occupation and the solidarity of the oppressed of the world," according to a Hezbollah communiqué.
"Cooperation among those who aspire to freedom in the world is enough to bring down the arrogant powers," said Sheikh Qassem, referring to the United States.
On Friday, Aleida Guevara, 49, visited the port city of Tyre, where a local leader of Hezbollah presented her with a plaque decorated with the faces of Che and Mughniyeh, a high-ranking resistance leader assassinated by the Mossad in 2008.
"I am not Arab, but I respect the lives of all individuals, and I am proud of the courage of the people. . . .  I am so happy because I feel the presence of my father," she said, according to her statements translated into Arabic and reproduced in a communiqué of the organizers of her visit.
The visit took place during a campaign for the liberation of the five Cubans imprisoned in the United States for "espionage."
Aleida visited the border village of Kfar Kila, opposite the "Fatima Gate," where, since the Israeli withdrawal from southern Lebanon in 2000 after 22 years of occupation, visitors come to observe the Israeli positions.
"My father is still here with the people who are resisting," said the Cuban militant, who also visited the Khiam Detention Center, where hundreds of people were tortured during the Israeli occupation.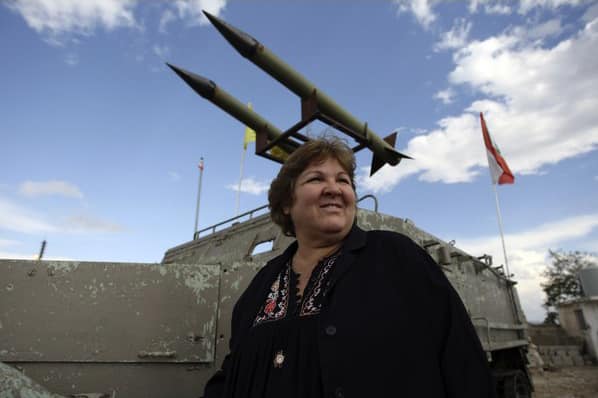 Aleida Guevara, Khiam, Lebanon, 10 October 2010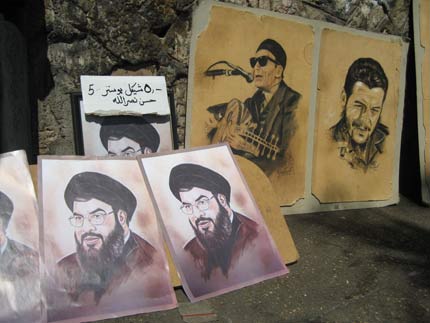 Posters of Che and Nasrallah, Tyre, Lebanon, 21 August 2006
---
"La hija del Che Guevara se reúne con el número 2 de Hezbollah" (Al-Manar, 11 October 2010).  Translation by Yoshie Furuhashi (@yoshiefuruhashi | yoshie.furuhashi [at] gmail.com).  Click here for the Arabic version.  Cf. "Pobladores del sur libanés expresan a Aleida Guevara March solidaridad con los Cinco y rinden homenaje al Guerrillero Heroico" (Cuban Embassy in Lebanon, 8 October 2010).  See, also, Al-Akhbar's coverage of Aleida Guevara's meeting with Hezbollah in Lebanon.