On 26 January 2011, Fars News, a semi-official news agency of the Islamic Republic of Iran, reported that Antonio Cassese, the president of the Special Tribunal for Lebanon (commonly called "Hariri Tribunal"), was a legal adviser to a powerful committee to de-list Mojahedin-e Khalq ("People's Mojahedin of Iran," aka MEK, MKO, and PMOI) from the European Union's list of terrorist organizations.1  Cassese attended a 2008 conference2 held in Brussels to announce the formation of that committee ("In Search of Justice, European Committee for De-listing the MKO").  There, he had a photo taken with his fellow promoters of the Mojahedin, including none other than Maryam Rajavi, the "president-elect" of the main Mojahedin front group "National Council of Resistance of Iran."  The photo, published in Fars News, is reproduced below.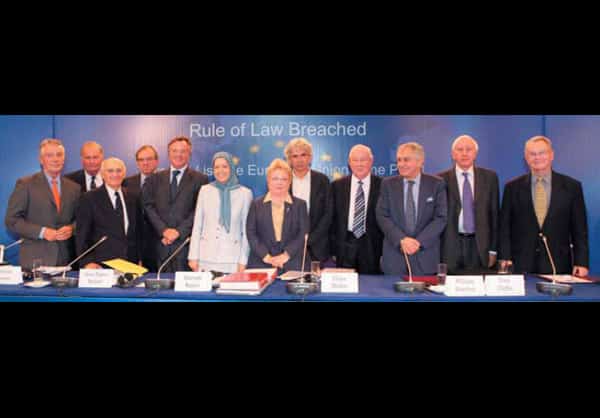 Antonio Cassese with Maryam Rajavi, at the conference announcing the formation of "In Search of Justice, European Committee for De-listing the MKO," 16 September 2008
Here are two documents attesting to Cassese's activity on behalf of the Mojahedin:
Alejo Vidal-Quadras (President of "In Search of Justice, European Committee for De-listing the PMOI"), "Formation of a European Community for De-listing the PMOI," Press Release, 18 September 2008

Antonio Cassese's "Expert Opinion" in Favor of De-listing the Mojahedin from the EU Terrorist List

While the Mojahedin themselves have been assiduously advertising, via its numerous fronts on the Web, Cassese's ardent support for their organization,3 the Western media, in their STL coverage, have ignored this highly interesting connection, which, if widely known, is likely to further discredit the STL as first and foremost a political tool against the "axis of resistance."
1  Their lobbying for the Mojahedin in the EU was successful: the Mojahedin was delisted on 26 January 2009.  Their US counterparts have been hard at work here, too, and "this effort has now gone bipartisan and big time, including engaging the services of a Washington, DC consulting firm" (Flynt Leverett and Hillary Mann Leverett, "After 'Iran Engagement': Bipartisan Voices Urge Obama to Embrace MEK," MRZine, 24 January 2011).
2  The conference was co-sponsored by "Friends of a Free Iran," a group of largely neo-con Members of the European Parliament plus André Brie of Die Linke.
3  One such Web site ("Comité voor vrede, vrijheid en democratie in Iran" [CVVD IRAN]) quotes Cassese as saying this about the Mojahedin: "Levying an unjust accusation of terrorism against a political organization is a serious and crippling charge.  Those who believe in democracy and human rights must loudly protest against such an outrageous allegation and just as loudly expose violations of the law."
---
Yoshie Furuhashi is Editor of MRZine.
---


| Print
---