An international flotilla of nine ships and hundreds of crew and passengers is a huge undertaking, in Gaza as much as anywhere.  Mahmoud Elmadhoun knows this better than most.  A member of Gaza's Higher Government Committee, as well as the Governmental Committee for Breaking the Siege and Receiving Delegations (GCBS), which is tasked with welcoming solidarity missions to Gaza, he just finished hosting the Miles of Smiles convoy of 55 European dentists.  Now he could face one of the most daunting challenges in the GCBS' history: Freedom Flotilla — Stay Human.
"The main issue is whether the Israelis will let the Flotilla come," Elmadhoun told me last Monday in his office in the Foreign Ministry.  Their reception in Gaza, he assured me, was not a question.  "We are ready to receive those people.  Don't worry; within 24 hours' notice of their departure from Athens, everything will be in place."
He quickly rattled off the GCBS' responsibilities in the Flotilla effort.  "Our main tasks are logistical: hotels, transportation, security, and of course activities," he said.  "Wherever they want to go in Gaza, they will be welcomed."
I thought of my own tiny Tahrir 4 Gaza land convoy, the first to cross the Rafah border after the fall of Egypt's Mubarak dictatorship, and of the small army of diplomatic staff, drivers, security personnel, tour guides, translators, and others assembled to support us around the clock, the hotel rooms reserved to house us, and the meetings and activities arranged for us.  Would a large group like Flotilla participants, plus the extra logistics of their ships, pose a challenge for the GCBS?  I asked Elmadhoun.
"Receiving foreign guests in solidarity with us is one of our government's top priorities," he answered, then repeated himself: "Everything will be ready.  Just give us 24 hours."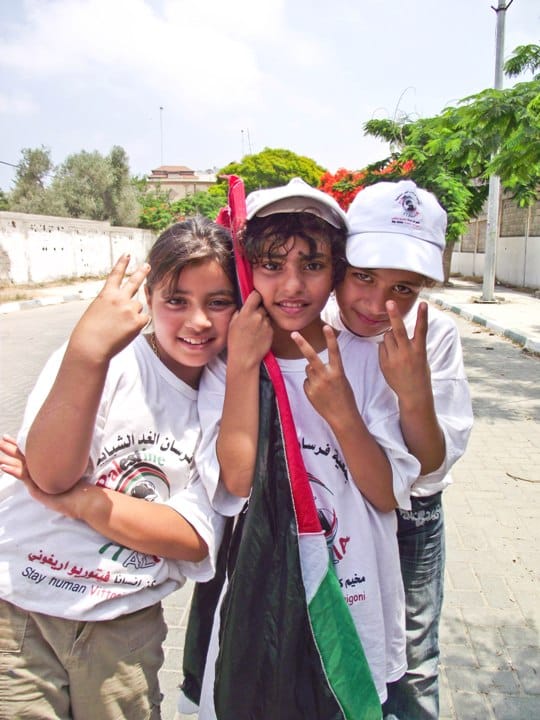 Children from the Beit Hanoun Local Initiative summer camp, at the PNGO march to UNESCO on 27 June 2011.  Photo by Ruqaya Izzidien.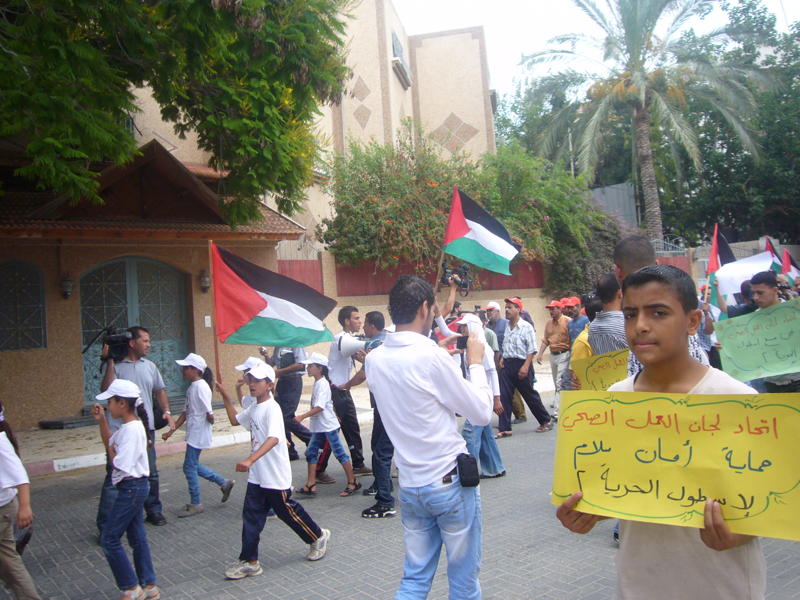 Children from the Beit Hanoun Local Initiative summer camp, at the PNGO march to UNESCO on 27 June 2011.  Photo by Alexandra Robinson.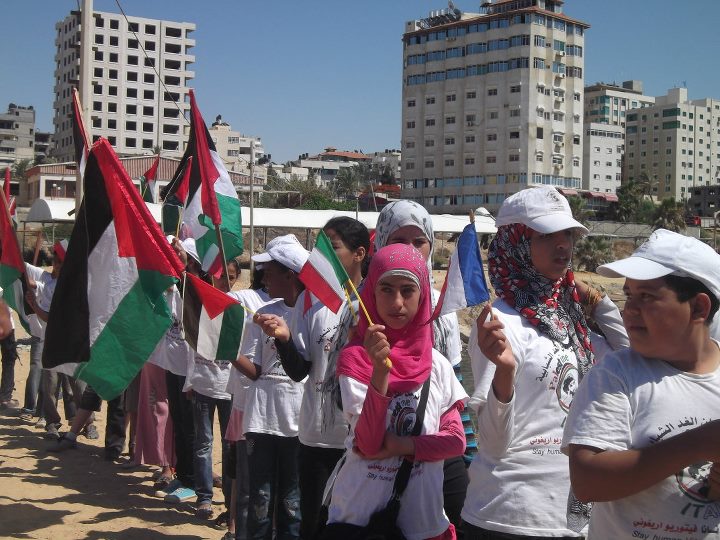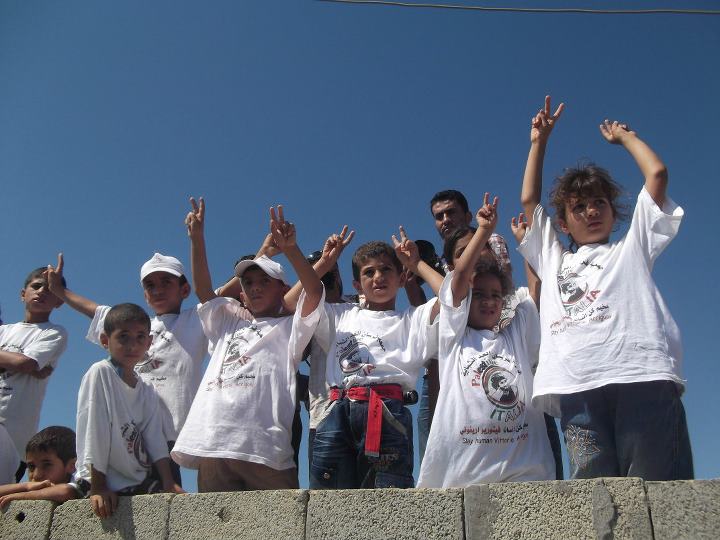 Children from the Beit Hanoun Local Initiative summer camp, at the rally at the Gaza port on 2 July 2011.  Photo by Noor Harazeen.
Later Monday morning, a hundred Palestinians marched to the Gaza complex of the United Nations Educational, Scientific, and Cultural Organization (UNESCO) to demand international protection for the Flotilla and an end to the siege.  They were led by children from a Beit Hanoun Local Initiative summer camp, clad in white, who pounded on the locked gates of the fortress-like, heavily-guarded compound before they were allowed to deliver a letter addressed to UN Secretary-General Ban-ki Moon.  On Saturday, the same children rallied at the port of Gaza to denounce Greek obstruction of the Flotilla and demand the release of its ships.
Both times, Amjad Shawa stood behind them.  Gaza coordinator of the Palestinian Non-Governmental Organizations' Network (PNGO), he oversees the Palestinian/International Campaign to End the Siege on Gaza, which had helped to organize both demonstrations — the first couple of many to follow, he told me later.
"We want the UN and the international community to intervene to protect the Flotilla," he said.  "Our message from civil society is that we need efforts like this.  We refuse the absurd Israeli claims that this is some kind of military threat, and assert that these are civil activists who are only carrying food, medicines, and construction materials."
The GCBS' work and that of PNGO, along with its 61-member organizations in Gaza, would overlap in some areas, Shawa said.  "We'll organize site visits for them, meetings, talks, sometimes demonstrations if that's what they want."  But their core responsibilities would differ.  "Building popular support is the key mission of civil society.  Our work in the coming days will include advocacy, rallies, protests, and media work to update people, which is very important.  We are working to show the real suffering here.  We want everyone to see the siege as it is, and not accept any cosmetic improvements, which can only help Israel.  Our goal is to end the siege totally."
PNGO and some of its members had long histories of collaboration with the groups behind the Flotilla, he told me.  "We are a contact point between Palestinian civil society and this international coalition," he said.  "Many of these organizations are our partners."
PNGO's approach to the siege was "rights-based, not humanitarian," Shawa stressed.  "You hear claims that Gaza isn't in a humanitarian crisis.  Well, this is worse than a humanitarian crisis!  We are in a complete state of dependency, without reserves of food, for example.  If our supplies were cut off for three or four days, Gaza would starve.  Shipments of aid aren't enough.  Palestinians want freedom."
His perspective on the Flotilla was similar.  "Of course it's political," he said.  "If the Flotilla were only bringing food, there would be no difference between the World Food Program and the Flotilla.  If there were no political message, they could send it all to Ashdod for land transportation to Gaza.  But I understand that each activist coming here believes in the rights of the people of Palestine.  And they're challenging the risks and provocations from the Israeli side because of those beliefs."
What did PNGO and its members hope to gain from their substantial commitment of time and resources to the Flotilla effort?  I asked Shawa.  "We know that the Flotilla will not end the naval blockade," he answered.  "But it has already sent a very important message to Israelis, Palestinians, and people in the surrounding countries.  This criminal siege cannot be allowed to continue."
At dusk, I walked past the Freedom Flotilla Martyrs Memorial and Square and onto the port of Gaza.  In spite of the late hour and fading light, the rocky pier, which lies across the street from my apartment, hummed with an unusual kind of activity: international journalists recording video segments, snapping pictures, and taking interviews.
I had come to meet Mahfouz Kabariti, coordinator of the Fishing and Marine Sports Association (FMSA).  Despite its recreational-sounding name, the FMSA represents Palestinians working in a deadly-serious business: fishing offshore in Gaza's territorial waters, braving frequent attacks by the Israeli navy.  The three-nautical-mile fishing limit imposed unilaterally and enforced, sometimes lethally, by Israel is part of the same maritime blockade the Flotilla aims to defy within days.
Kabariti spends as much time at the port as anyone and was eager to talk about the preparations taking place there.  "All the equipment in the harbor is ready for them," he told me.  "The pier and road have been prepared," he said, gesturing at a freshly-sanded lane.  "The gasoline for the boats, the electrical connections, food, drinks, and all the needs the sailors might have are here."
Like many of Gaza's civil society organizations, the FMSA plans to host groups of Flotilla participants at several events on land.  But it will also join an impressive reception for them at sea, Kabariti told me.  "We have planned, with our friends, to launch our boats to receive the Flotilla.  As soon as we receive the first news that they will reach our port safely, we will go to welcome them to Gaza."
How many boats would participate in the effort?  "Most of them," he replied.  "Everyone in Gaza who has the opportunity, plus our families, will want to participate."
And what of those who can't fit in the boats?  "Well, they'll have to stay on the port," Kabariti said.  "As the Flotilla approaches Gaza, everyone will sit watching their televisions.  And when we see that they will arrive safely, thousands of us — maybe ten thousand, maybe a hundred thousand — will come rushing down to the port to welcome them.  Of course we won't all fit in the boats!  But everyone in Gaza will want to be part of this historic moment."
But what if the Flotilla doesn't make it to the port?  "We'll still be here," he answered.  "We know that Israel is determined to stop them.  But the solidarity they are showing for us by challenging the siege is what matters.  Whether they are allowed to reach Gaza or not, we'll show our appreciation for their bravery and risks."
The siege hangs over Gaza like a shroud.  It colors everything, from the prices of food in supermarkets to the dreams of youth, whose ambitions to study or work abroad, or even visit family and friends in neighboring countries, it often crushes.
But as the Flotilla has mobilized, a palpable sense of excitement has emerged.  Everyone — from friends in cafes, to contacts in social movements, to strangers in refugee camps — is eager to share the latest news from Athens, and even more eager to hear of the Flotilla's departure.
As Gaza rises, whether to offer the Flotilla a welcome like no other, or to denounce interception by Israel or obstruction by its proxies, one more round of the ongoing struggle for the liberation of Palestine will conclude with a decisive victory in the arena of global opinion.  Ties between Palestinian organizers and the global network of activists supporting them will emerge stronger than ever before.  And the siege — along with the colonial project imposing it — will be pushed one big step closer to their final end.
Regardless of what happens in the coming days, in Athens or deep in the Mediterranean, the global surge of popular organizing, grassroots collaboration, and public attention around the Flotilla show that it has already accomplished the highest goals its organizers could possibly have set for it.
---
| | |
| --- | --- |
| | Joe Catron is a resident of Brooklyn, New York and a current member of the International Solidarity Movement — Gaza Strip.  He writes in a personal capacity. |
---


| Print
---