On 10 June 2014 FIFA released a "Frequently Asked Questions" pamphlet "Setting the Record Straight" on what it purports to be some misconceptions about FIFA's role and the socio-economic impact of the FIFA World Cup.  The release of the pamphlet is significant as it is the first time that FIFA has been forced by mass protests, and by Brazilians, to come out and defend itself and its tarnished image in this manner.  The events in Brazil have gone way beyond the efforts of a massive strike wave in South Africa to demand that FIFA accepts a "decent work" agenda.  This is, after all, the first time in World Cup history that a FIFA revolt has taken place and that in a soccer-loving country!  Not only is the tone of the pamphlet defensive, it is also telling of FIFA's slide as the once hegemonic voice of world soccer.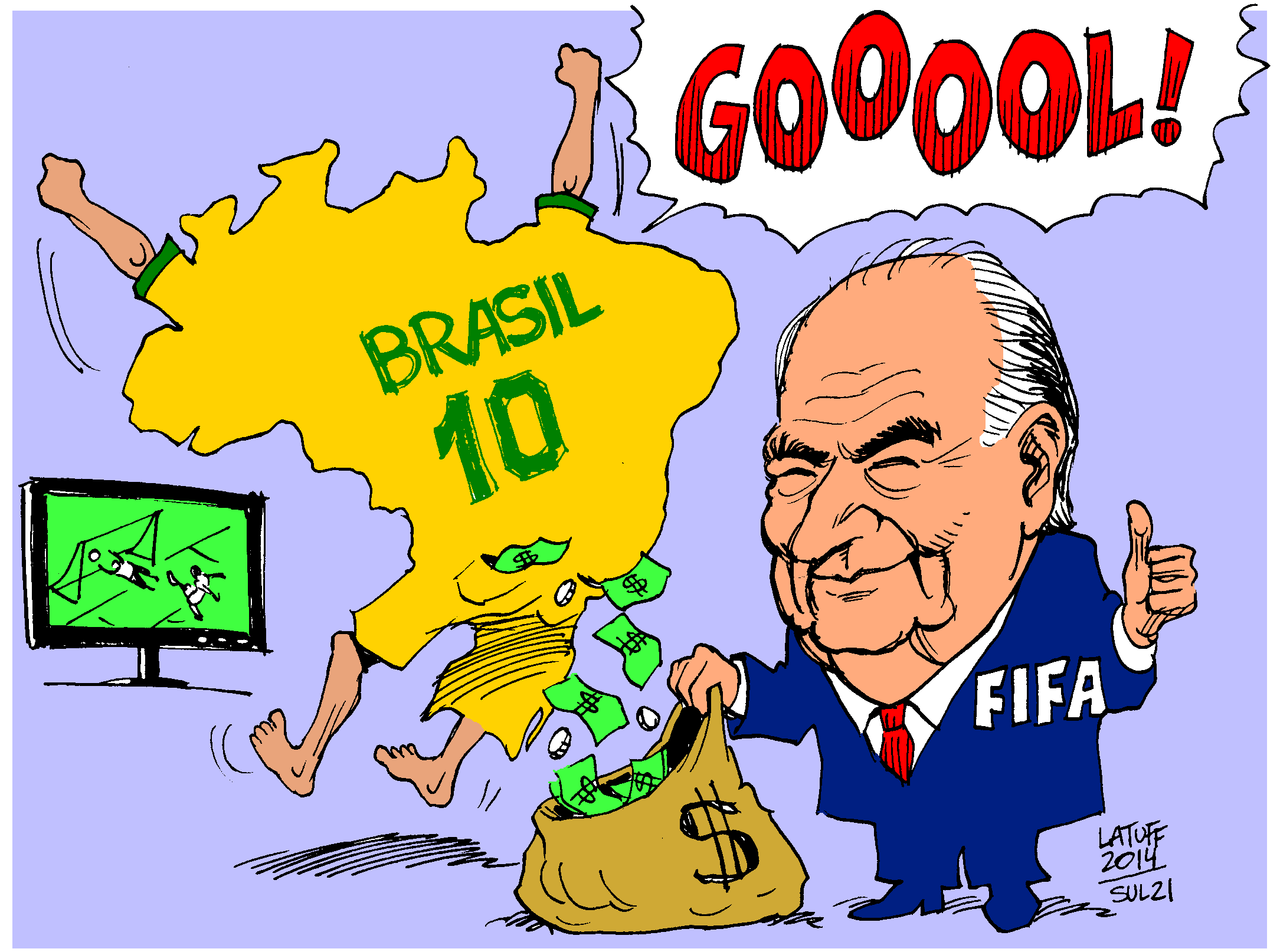 In an effort to defend its social standing in Brazil and the world at large the pamphlet starts with a comical but frank position.  It admits that, of the $15 billion USD on infrastructure, "[t]he taxpayers have footed the bill, FIFA hasn't spent anything" and is only responsible for covering operational costs of the event.  Yes, we agree that FIFA has not spent a cent on the most important and most costly aspect of the event — that of providing the mega-sports infrastructure.  But what FIFA does not acknowledge is that the taxpayer is footing a mega-public subsidy precisely because FIFA does not "spend anything"!  Despite this one of many public handouts, the spoilt brat FIFA demands a wealth of concessions from countries hosting the FIFA World Cup in the legal mechanism of state guarantees and the notorious FIFA Laws.
The FIFA Laws are the key to securing the operation of FIFA's sports accumulation complex in which FIFA and its commercial partners, the banks, local and international construction and engineering firms, have secured for themselves and their shareholders a guaranteed rate of mega-profits.  The mechanism of this regime of capital accumulation is precisely to use the avenue of public funds and state subsidies and exemptions to accrue billions in savings without directly having to spend a cent of taxpayer's money.  The representative of big capital, the state does this on FIFA's behalf.  In South Africa it has been well documented in the book South Africa's World Cup: A Legacy for Whom?
FIFA is correct that there is no full general tax exemption but there is an extensive "series of exemptions on federal taxes granted exclusively: (i) to FIFA itself and related entities domiciled abroad; (ii) to FIFA's Brazilian subsidiary and to the Brazilian Broadcasting Source; (iii) to FIFA's service suppliers established in Brazil; and (iv) to non-resident individuals hired or engaged to work in the events."  The exemptions include all revenues, profits, income, expenses, costs, investments, payrolls, and any and all kind of payments, in cash or otherwise.
There are specific time-bound tax exemptions on imports carried out by FIFA itself, FIFA's Brazilian subsidiaries, FIFA confederations, foreign association members of FIFA, FIFA's foreign business partners and service providers, and FIFA's primary broadcaster.
There are also special one-off award payments of USD $44,000 (tax-free) as well as a monthly stipend to players who were part of Brazil's 1958, 1962, and 1970 World Cup winning teams.  These payments will be made through the Ministry of Sport and the Ministry of Social Welfare and they will come from the public purse.
The FIFA Laws state that all "visas and work permits" relating to the event be issued free of charge to hundreds of thousands of FIFA delegations, press associates, and commercial partners including all sports fans who have tickets to the games.  Thus millions in public revenue has been lost even before the games have started.
There is massive public expenditure undertaken by the state to enforce FIFA's intellectual property rights wherein "FIFA shall be released of payment of any fees to INPI [Brazilian Institute of Industrial Property] until December 31st 2014."  This enforcement also includes a 2 km-radius "tax-free bubble" around official sports venues which essentially bans free competition and prevents anyone from deriving an income without obtaining a licence from FIFA.  The laws are so extreme that a local pub or restaurant cannot even use the words, "World Cup," "Brazil 2014," "2014 Brazil," let alone "FIFA," to attract customers.  This effectively excludes the majority of informal traders and local businesses wishing to market their products for sale during the World Cup.  FIFA is therefore misleading the public when it says that it does not "drive out street traders" as the new conditions (created after massive protests by street traders in South Africa for entry) for street traders are still limited to the "immediate stadium environment."
FIFA further laments that it did not order "Brazil to build 12 expensive stadiums."  While we may never know how many stadiums FIFA actually ordered the point remains that FIFA does demand the "state-of-the-art . . . beautiful . . . modern stadiums."  FIFA's 228-page "Football Stadiums: Technical Recommendations and Requirements" report, which it regards as the blueprint for the football stadiums of the twenty-first century, most certainly leaves an impression that the stadiums cannot but be damned expensive.  Take the requirement that the FIFA VIP lounge must be big enough to accommodate 500 guests per match at each venue and 2,000 at the venues of the opening and final matches.  This is besides the rest of the hospitality demands which can only be regarded as monstrously wasteful luxury expenditure.  In South Africa it has been well documented that FIFA demanded a brand-new modern stadium be built in Cape Town simply because of its class prejudice towards Athlone, a working-class community where a feasible stadium was already in place.
Now FIFA says that it is not to blame for forced removals, which is only a half truth.  The point is that forced removals often occur before the FIFA World Cup, part of the elitist "World Class City" syndrome that has come to plague countries around the world.
Finally, FIFA is at pains to explain that it does not leave the host country with "social, economic and ecological problems" and in fact spent USD $182 million on the sports legacy in Africa and that the games were environmentally compliant.  Not only did FIFA in South Africa make the most money in world cup history — some $2.3 USD billion — there were cost overruns of 1,708% in total.  Despite keeping all the environmental regulations, the 2010 World Cup was also regarded as the most carbon-intensive tournament thus far.
For all intents and purposes the Brazil 2014 World Cup will overtake the legacy of South Africa and go down in history as the most expensive, carbon-intensive tournament in FIFA's history.
---
Eddie Cottle is the editor of South Africa's World Cup: A Legacy for Whom?  He is a researcher at the Labour Research Service in Cape Town.
---
---