For the last week I have been with the JanaMukti Sena, the People's Liberation Army, mostly with the Kalyan/Anish Memorial Brigade of the 3rd division.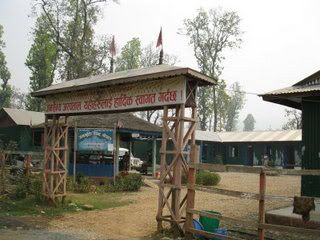 This is the People's Hospital.  Set up by the People's Army, it now serves both them and the public.  It has many facilities, including a pharmacy, an operating room for minor surgeries, a pre- and post-natal care facility, and a female ward.  It was built by the PLA and is run at next to no cost for the people of the area.  (I also fell ill at the camp, which cost me 10 rupees, about 20 Australian cents, including my medication.)
These are two married comrades (please forgive, I only briefly met them and didn't record their names).  He was tending to their child while she was studying for her School Graduation Certificate.  They are representative of many in the camp.  Many of the people I spoke to were studying.  Many members left school to join the PLA and fight.  Many others just simply didn't have access to any sort of real schooling.  The PLA is now like a university — everywhere peoples are studying something.
This is also a common scene in that the men often spend a lot of time tending to the children.  In fact, in my time there, I saw no division of labor based on sex: women could often be seen with axes and saws in hand to go and cut wood while men stayed back to cook, clean, and care for children.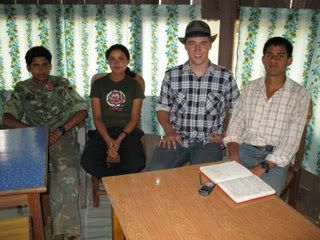 From left to right, Comrade Rakess, Comrade Sasila, myself, and Comrade Agragg.  All in their early 20s, from the 6th battalion.  Rakess left his wife and family in the village in order to fight.  Agragg has recently had his first child with his wife, who is an activist with the All Nepal Women's Organization (Revolutionary).  Sasila came from a relatively wealthy background, but she rebelled against it to join the fight against the caste system and injustice in her country.
Their interview of me went for at least as long as my interview with them.  Once they found out I was a progressive journalist, they were full of questions about Australia, the struggle here, how strong the socialists are, our government, our government's relations with Nepal and with America, the nature of imperialism, and the conditions for people in Australia.  Many journalists come to these camps and hear political talk from people who were previously peasants and write it off as brainwashing by some evil party.  These people are often uneducated, but they are not stupid.  They know exactly what they are doing and why.  They are thinking things through, and they crave information.  People who want to write off the "simple" people of Nepal — do so at your own peril.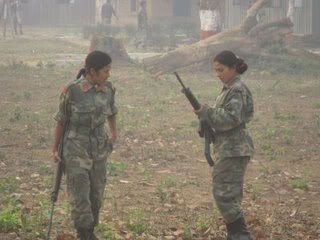 Women with guns.  Enough said.
I will add that this brigade was made up of a little over 20% women, which is below the average for the PLA.  But while women were a minority, and are still underrepresented in the higher ranks, they were in my experience much more serious as a general rule.  Some of the male comrades were sometimes a little hazy, but the women were often the most political and well read.  Men on guard duty would often talk to me if I asked, while on duty the women would direct me on to someone else.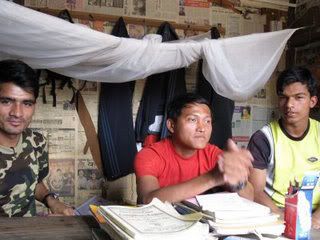 From left to right, Comrade Sedanta, (Name Unknown), and Comrade Krishna.  Sedanta was a medic in the rebel army but was wounded himself.  All three are currently studying, and the books in the foreground are test papers for the upcoming exams.  The middle comrade is a Bhutanese refugee.  Almost 20 years ago Bhutan violently expelled a sixth of its population who were ethnic Nepalis.  His dream is that, after helping the struggle here in Nepal, he will be able to return to his homeland and help the struggle against the violent and racist monarchy there.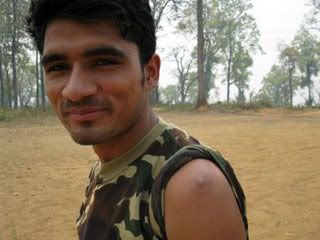 Comrade Sedanta again.  He was shot by the Army while tending to wounded.  That's his scar.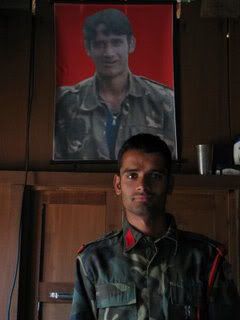 Comrade Sunil.  23 years old.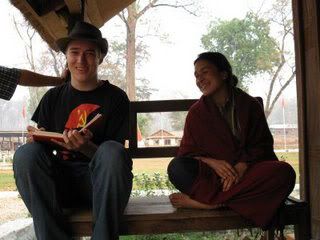 Sriganna
Sunil is a vice-battalion commander.  He is engaged to be married in a couple of months.  He is from a poor farming family in the north of Nepal.  His dream is just that Nepal will be developed, his family won't be impoverished, and everyone will be treated with respect.  The picture is that of his older brother.  His brother shared this simple and reasonable hope for something better, and he died for it.  He was killed by the military during the war.
This is Sriganna.  She is an inspiration.  She is a vice-battalion commander, the highest ranked woman in the brigade.  He room is packed full of political books and magazines, and she is clear on her politics.  She can always be seen talking to people around the camp, especially the other women.  She has lost both a sister and a brother during the war to the repressions by the army.  Now, due to a complicated political issue I won't go into at present, her husband is in jail.  Still she is always smiling.
She and all the people here are just happy with what they have already achieved.  They can now be optimistic about what the future of their people has in store.
---
Ben Peterson is an Australian journalist.  This article first appeared as an entry in his blog Lal Salam on 26 March 2009; it is edited and reproduced here for educational purposes.
---