BEIRUT, 16 April 2009 (IRIN) — Eighty Ethiopian women have been in Tripoli Women's Prison in north Lebanon for over a year, accused of not having a passport which was either taken from them when they started as domestic workers, or which they never had in the first place.
Most were arrested on the street after running away from their employers — usually because of abuses ranging from forced confinement and starvation to physical harm and rape.  Some had fled after being accused of stealing.
Having broken their work contracts, which guarantee them a flight home on completion of two years work, and with no passports, the girls are in limbo.
"The reason these women continue to sit in detention is because the employer doesn't want to pay for the girl's ticket home, General Security [Lebanese intelligence agency] doesn't have the money, and often their embassies are unaware of their detention," said Roula Masri, coordinator for the Collective for Research and Training on Development Action, an NGO campaigning for workers' rights.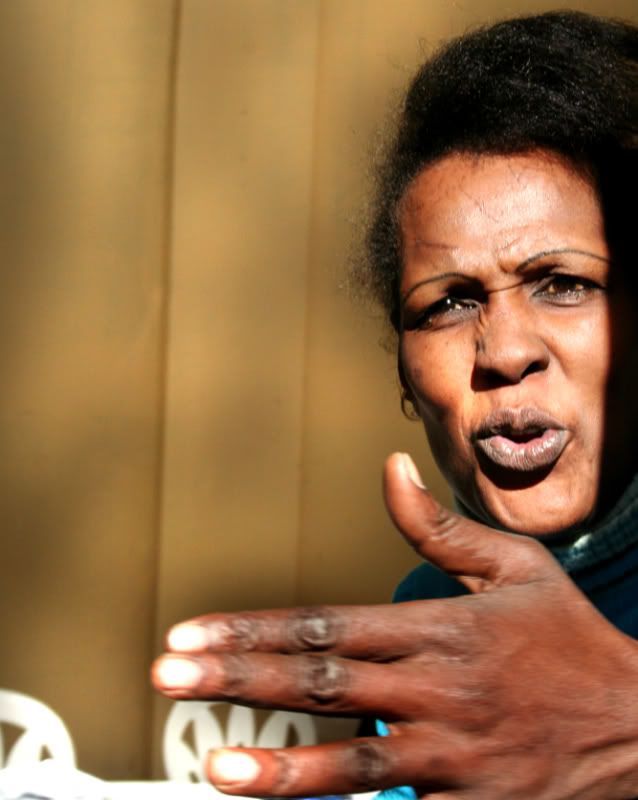 Originally from Sudan, Kholoud has been in Lebanon for 18 years as a freelance domestic worker.  She has no official papers and relies on donations to pay for her children's education. Photo: Simba Russeau/IRIN
Kholoud, from Sudan, has been in Lebanon for 18 years.  She came with her husband and two children to escape conflict and unemployment.  But when her husband was deported, she said, he took all the family's official papers with him.  "Now I can't prove that I am Sudanese to obtain a new passport . . . so I am stuck here."
She struggles to pay US$110 a month for a one-room apartment with no kitchen, refrigerator or running water, and relies on donations from friends to pay for her children's education.
Rights groups say an estimated 200,000 domestic workers in Lebanon — most of them women from the Philippines, Sri Lanka and Ethiopia — are not protected by labour laws.
New Deal?
Last month, after a two-year effort by rights groups working with the ministries of labour and justice as well as General Security, the authorities promised to enact a new unified contract for migrant domestic workers that would improve their working conditions.
For the first time, workers will be able to read the same contract as their employer in their own language.  Work terms have been extended from two to three years and the contract states the women should only work 10 hours a day for six days a week and are entitled to eight hours of continuous rest.  Salaries, which Human Rights Watch (HRW) has reported can often be withheld as punishment, must now be paid and signed for each month.
The employer, however, will still have the right to break the contract for whatever reason, which means the worker is then responsible for paying for her ticket home or repaying any debts owed.  Workers will still not be guaranteed the right to retain their passports.
Despite this move, activists say a change in the law is needed to ensure the new contracts and the work of placement agencies are regulated.
"Experiences in other countries, such as Jordan, which already have a unified employment contract and a minimum salary for domestic workers, show that a contract is not sufficient in itself and that a law protecting these workers is needed," said HRW senior researcher in Lebanon, Nadim Houry.
In February, eyewitnesses reported seeing a domestic worker fall from a sixth-floor balcony to her death in Beirut's central Hamra district.  HRW says domestic workers are dying at the rate of more than one per week in Lebanon, most through suicide or in risky attempts to escape.
---
This article was first published by IRIN on 16 April 2009.
---