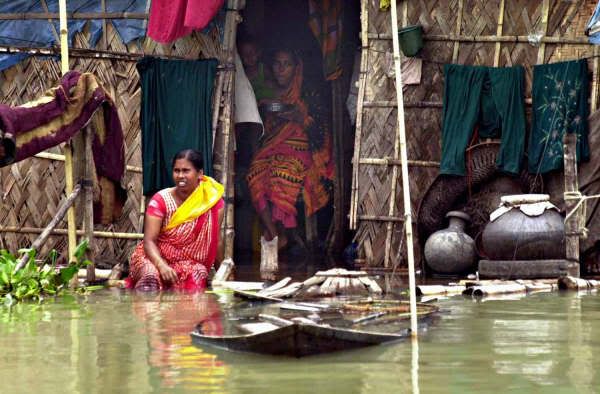 Bholar Basti, a water-logged slum in Dhaka city, accommodates more than 30,000 people, most of them victims of river erosion, floods, and other natural disasters.  ©Shamsuddin Ahmed/IRIN
DAKAR, 1 September 2009 (IRIN) – Current UN cost estimates for climate change adaptation are too low and this could thwart climate treaty negotiations set for December in Copenhagen, according to the former co-chair of a UN Intergovernmental Panel on Climate Change working group and lead author of a recent independent study on adaptation costs.
The report's authors said 2007 UN figures underestimate the cost of coping with warmer temperatures, which have been linked to more intense flooding, stronger storms, sea-level rise, and eco-system damage.
Martin Parry oversaw the UN committee of scientists estimating climate change impacts, vulnerability, and damage control from 2002 to 2008.
Annual costs to the agriculture sector as a result of warming temperatures are estimated at US$14 billion, water $11 billion, human health $5 billion, coastal zones $11 billion, and infrastructure $130 billion for an estimated global price tag of $171 billion, according to the UN Framework Convention on Climate Change (UNFCCC).
But Parry told IRIN these estimates were produced in just weeks, whereas the required in-depth study would take months.  "It serves no one to stand by these too-low estimates simply not to scare off donors," the scientist said.  "The risk of using unrealistic estimates is [reaching] a [climate change] agreement that cannot get the buy-in of developing countries, which will say that there is not enough money on the table for adaptation."
Published by the UK non-profit research group International Institute for Environment and Development and Imperial College London, the study is calling for "robust" re-evaluation of the current UN cost estimate of climate change.
UNFCCC's executive secretary, Yvo de Boer, said that climate change adaptation costs are a moving target. ". . .Starting to plug the hole right now is more important than determining its exact future size.  It is quite clear that costs for both adaptation and mitigation will increase over time. . . .  The essential issue is that mechanisms are put in place, which allow public and private sector finance to be significantly scaled up over time so that funding for climate action in the developing world does not have to be renegotiated every year."
Benin
Benin's head of climate change in the Ministry of Environment, Ibila Djibril, told IRIN the current global estimate to help coastal zones hit by climate change is not enough, based on Benin's experience with coastal erosion, which some scientists have linked to warmer temperatures.
Djibril told IRIN the government has raised $70 million to reinforce coastal areas east of the economic capital Cotonou, but that no evaluation has been conducted of vulnerable areas near the border with Togo.  "We have not raised a single franc for that area and already 10 villages have disappeared in Grand Popo region [due to coastal erosion].  That is some 10,000 people who have had to go make a living elsewhere farther inland."
Djibril said it is important to remember what climate change means to displaced small farmers and fishermen.  "Talk to a fisherman and find out how much he earns on a good day.  I am told about $50.  Find out how much a farmer lost when he abandoned his field.  This starts to give you an idea of how much it will cost to help communities adjust."
---
This article was first published by IRIN.
---