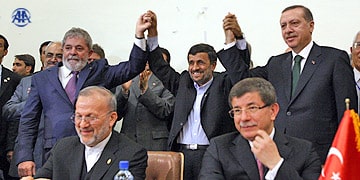 Tehran — The Turkish Foreign Minister said at the joint press conference with the Foreign Ministers of Iran and Brazil after signing the trilateral agreement on Tehran Research Reactor fuel: Turkey and Brazil guarantee that, until fuel for the Tehran Research Reactor is delivered to Iran, Iran's low-enriched uranium will be kept in Turkey.
According to IRNA's political correspondent, Turkish Foreign Minister Ahmet Davutoğlu emphasized the following point at this press conference: "This trilateral agreement has two messages — one for the international community and the other for the Iranian people."
The Turkish diplomat stated: "This agreement sends the international community the message that now is time for diplomacy.  Turkey and Brazil showed that there is still room for diplomacy."
He declared, noting that Iran will be sending 1,200 kilograms of its low-enriched uranium to Turkey: "Now, sanctions are no longer necessary, and it's time for negotiations between Iran and the international community."
Ahmet Davutoğlu added: "Based on this agreement about the transfer of Iran's uranium to Turkey, Tehran, the Vienna group, and the IAEA should negotiate with each other in the near future."
The Turkish Foreign Minister said, with regard to this agreement's message for the Iranian people: "We have pledged that we will safeguard Iran's uranium in Turkey as Iran's own asset until the fuel for the Tehran Research Reactor is given to Iran."
He also emphasized: "We hope all the Iranian nuclear issues, like the fuel for the Tehran Reactor, will be also resolved through negotiations and diplomacy."
---
The original article was published by the Islamic Republic News Agency (IRNA) on 17 May 2010.  Translation by Yoshie Furuhashi (@yoshiefuruhashi | yoshie.furuhashi [at] gmail.com).  See, also, "Uranyum takası Türkiye'de" (Anadolu Ajansı, 17 May 2010).
---


| Print
---