"Our community is expanding: MRZine viewers have increased in number, as have the readers of our editions published outside the United States and in languages other than English.  We sense a sharp increase in interest in our perspective and its history.   Many in our community have made use of the MR archive we put online, an archive we plan to make fully searchable in the coming years.   Of course much of the increased interest is from cash-strapped students in the metropolis, and from some of the poorest countries on the globe.  For those of us able to help this is an extra challenge.   We can together keep up the fight to expand the space of socialist sanity in the global flood of the Murdoch-poisoned media.  Please write us a check today." — John Bellamy Foster

To donate by credit card on the phone, call toll-free:
1-800-670-9499.

You can also donate by clicking on the PayPal logo below:

If you would rather donate via check, please make it out to the Monthly Review Foundation and mail it to:

Monthly Review
146 W. 29th St., #6W
New York, NY 10001

Donations are tax deductible. Thank you!
Muntadar al-Zeidi, an Iraqi correspondent for Al Baghdadiya, an Iraqi-owned TV station based in Cairo, Egypt, threw his shoes at George W. Bush at a press conference in Baghdad held to celebrate the adoption of the US-Iraq Status of Forces Agreement.  Zeidi shouted, "This is a farewell kiss, you dog.   This is from the widows, the orphans, and those who were killed in Iraq."
"U.S. President Visits Baghdad: Iraqi Journalist Throws Shoes at Bush," Al Jazeera, 14 December 2008:

Bush said, "That's what happens in a free society," in a typical right-wing attempt to pass off all protests against the United States government as proof of American freedom.  Echoing Bush, Fox News commented: "You can only imagine his fate if Saddam Hussein were still in charge."
"Pres Bush Ducks When Iraqi Man Throws His Shoes at Him," Fox News, 14 December 2008

But according to the New York Times (Steven Lee Myers and Alissa J. Rubin, "Iraqi Journalist Hurls Shoes at Bush," 14 December 2008):
Mr. Maliki's security agents jumped on the man, wrestled him to the floor and hustled him out of the room.  They kicked him and beat him until "he was crying like a woman," said Mohammed Taher, a reporter for Afaq, a television station owned by the Dawa Party, which is led by Mr. Maliki.  Mr. Zaidi was then detained on unspecified charges.

. . . . . . . . . . . . . . . . . . . .

The television channel broadcast a request for Mr. Zaidi's release in the name of democracy and freedom of speech.  "Any procedure against Muntader will remind us of the behavior of the dictatorship and their violent actions, random detentions and mass graves," the channel said.  "Baghdadia TV channel also demands that the international and Iraqi television organizations cooperate in seeking the release of Muntader Zaidi."
Associated Press moreover reports ("BUSH NOTEBOOK: Bush Ducks Shoes in Baghdad," 14 December 2008) that Muntadar al-Zeidi has not been heard from since then and Al Baghdadiya is concerned that his life may be in danger:
"I am trying to reach Muntadar since the incident, but in vain," said [Al-Baghdadia's Baghdad manager] Fityan Mohammed.  "His phone is switched off."

The station issued a statement on the air Sunday night asking the Iraqi government to release al-Zeidi "to spare his life."

"The station calls on journalists all over the world to express their solidarity for the release of al-Zeidi," it said.
Watch Al Baghdadiya's statement below.
بيان البغدادية حول الافراج عن مراسلها منتظر الزيدي

Where is Muntadar al-Zeidi?   Free Muntadar!
– – – – – – – – – – – – – – – – – – – –
UPDATE:
The world is awash with acts of solidarity with Muntadar al-Zeidi.  Al Jazeera reports (تضامن واسع مع راشق بوش بالحذاء والحكومة تواصل اعتقاله and تأييد شعبي عربي متزايد للزيدي ودعوات لإطلاق سراحه) today, among other things, that:
There have been demonstrations in Basra, Najaf, and Baghdad in defense of Zeidi;
About 200 lawyers from all over the world have expressed their readiness to defend Zeidi;
The Iraqi Bar Association is forming a legal defense committee for Zeidi;
The Union of Arab Journalists, together with the Union of Arab Lawyers, is demanding Zeidi's release and a fair trial;
The Association of Muslim Scholars has hailed the courageous journalist, declaring that his heroic stance is an authentic expression of "Iraqis' anger and absolute rejection of the ugly American occupation";
Reports and commentaries on Zeidi are all over the Arab media, and the Arab populace are busy emailing and texting praises for Zeidi (e.g., his shoes ought to be put on display in a museum as the most precious Arab artifact; and a statue of his shoes should be erected) and jokes about the United States government and its clients (e.g., "URGENT NEWS: Shoes Prohibited in Locations Visited by POTUS"; "US Arms Manufactures to Begin Making Anti-Shoe Weapons"; "The Palestinian Authority Prohibits Shoes at Press Conferences"; and "Shortage of Shoes in Markets ahead of US Secretary of State Condoleezza Rice's Visit to Ramallah").

The Zeidi family express a sense of pride
Muntadar's brother, Uday al-Zeidi, was told by an officer guarding the Green Zone to "forget" about his brother in jail, and the Zeidi family had to leave their home for fear of arrest by the US and Iraqi forces, but the family are very proud of Muntadar, also according to Al Jazeera (عائلة الزيدي فخورة به وتتخوف على مصيره بالسجن) today.
– – – – – – – – – – – – – – – – – – – –
EDITOR'S FOOTNOTE ON FOOTWEAR RESISTANCE
Some commentators say that a defiant use of shoes is an Arab thing, and others say that it's a Muslim thing, but the idea has an undeniable universal appeal, and it might ecumenically catch on across cultures and religions.
As the POTUS spoke nonsense into the void,

His final insult to Iraqis unfurled,

There the embattled journalist stood,

And fired the shoes heard round the world.
Muntadar al-Zeidi's shoes are the Lexington and Concord of creative anti-imperialist resistance in the age of YouTube.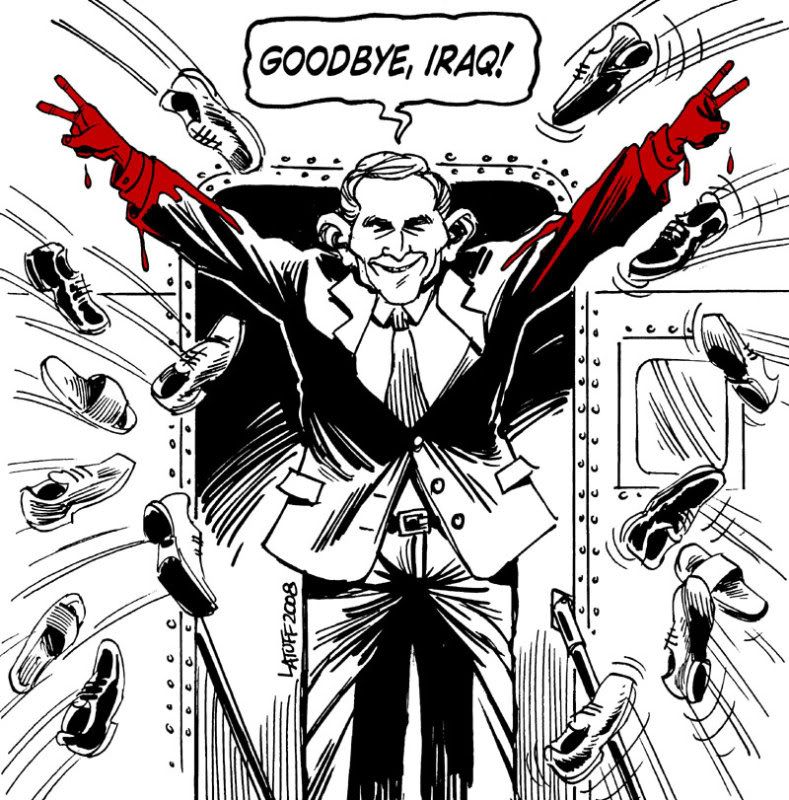 ---