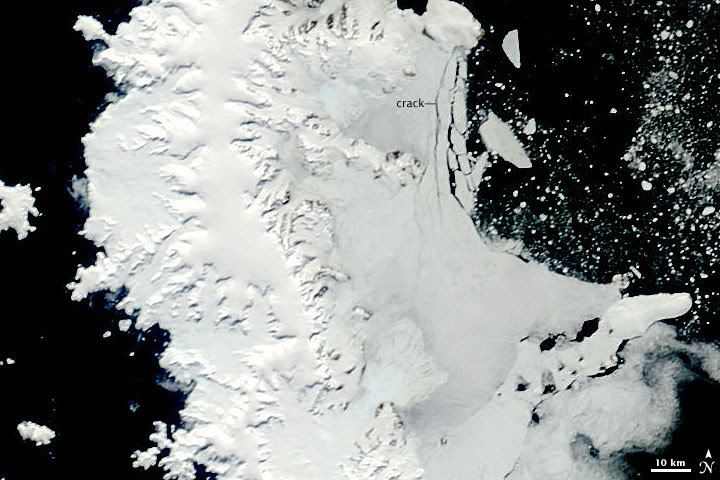 Crack in sea ice recorded along the Antarctic Peninsula on 2 January, 2009 by NASA Goddard Space Flight Center's MODIS Rapid Response. Photo: NASA.
JOHANNESBURG, 10 March 2009 (IRIN) — The UN Environment Programme's 2009 Year Book lists disturbing evidence from studies in 2008, which show that the earth is losing its ice at a faster rate than previously thought.
The Northern Sea Route along the Arctic Siberian coast opened, and the Northwest Passage through the islands of northern Canada was also ice-free, for the second year in a row.  These two passages have not been open simultaneously since before the last ice age started, some 100,000 years ago.
The overall declining trend of sea-ice in the Arctic has now lasted three decades; the thickness of ice built up over the years is also decreasing.
A large part of the Wilkins ice shelf in the Antarctic collapsed in February 2008.  "The shelves often act like corks in a bottle, holding back glaciers on land, whose loss will raise sea levels."  More cracks were recorded in the Wilkins ice shelf in December 2008.
The flow into the ocean of the Jakobshavn Isbrae glacier in western Greenland, one of the most important routes of ice loss, has doubled since 1997.
The loss of ice from the West Antarctic ice sheet increased by 60 percent in the decade to 2006.
Ice loss from the Antarctic Peninsula, which extends from west Antarctica towards South America, increased by 140 percent.
The USA's National Snow and Ice Data Center recorded the second lowest figure for the area of ice surviving the summer thaw in the Arctic Ocean since satellite monitoring began in 1979.
The atmosphere in the Arctic is warming twice as fast as in most other regions of the world; warming is amplified by the lower reflectivity of the earth's surface as ice and snow melt.
The International Polar Year, a scientific programme that focuses on changing Arctic and Antarctic conditions, has found evidence of large-scale water drainage systems beneath the polar ice sheets, causing renewed concern about ice-sheet stability.  The two-year programme, which began in March 2007, will draw to a close in March 2009.
---
This article was published by IRIN on 10 March 2009.
---