Do you have an indelible memory of a theater experience?  One winter in the 1970s, while I was a film student at Manhattan's Hunter College, I heard that Mother Courage, by that red cat Bertolt Brecht, was being performed downtown at Wooster Street.  So voila! next stop Greenwich Village, and I attended the Wooster Group's production at the Performance Garage.  As Mother Courage traipsed about the countryside following the 30 Years War's armies all of a sudden the entranceway to the garage-turned-theatrical space opened, and the cast literally took the play out into the streets.  Of course, this caused the theatre to freeze, but I never forgot this creative, bold bit of staging because it so jauntily shattered the fourth wall and proscenium arch while organically furthering Brecht's storyline.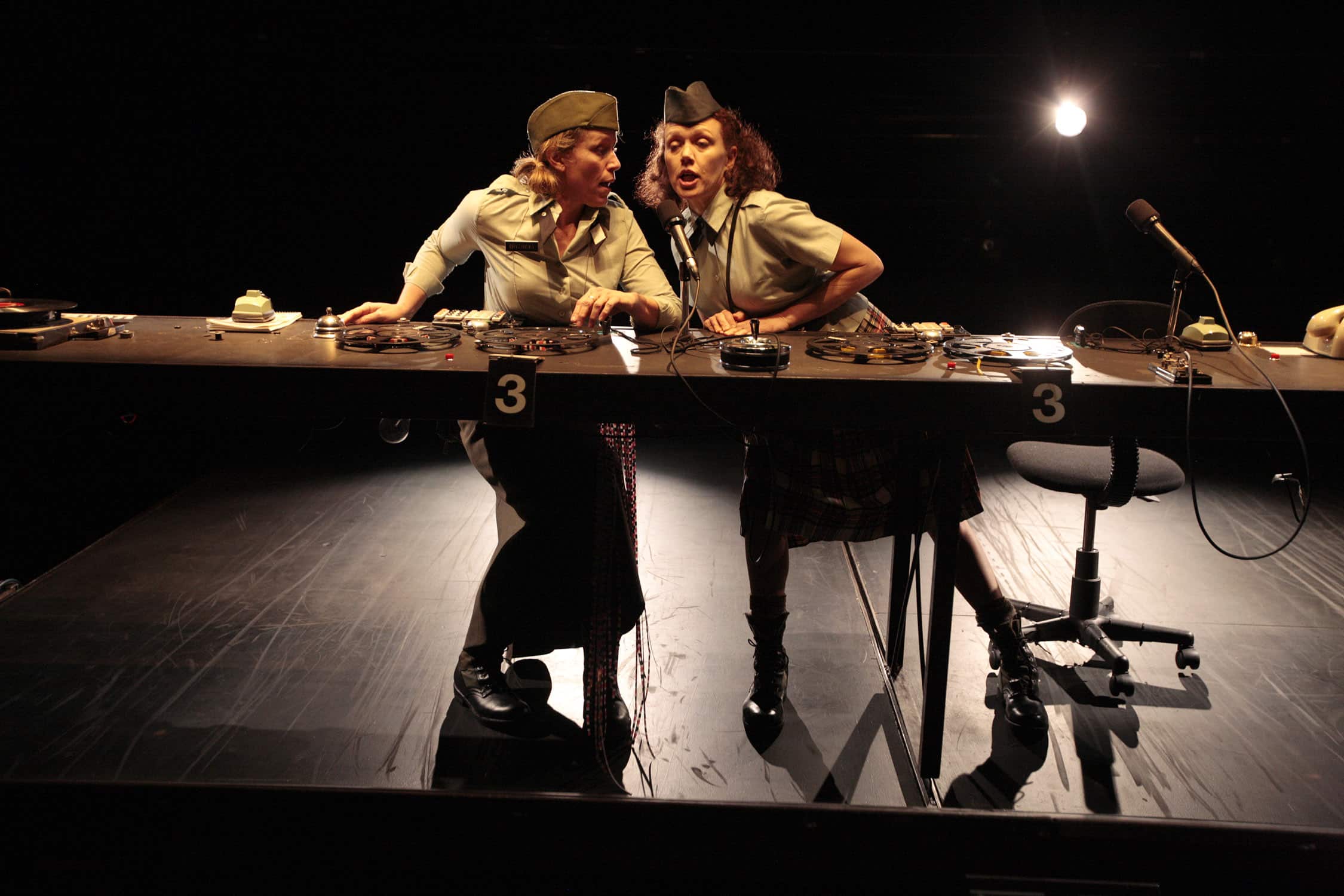 Oscar winner Frances McDormand and Kate Volk operate the military communications center in North Atlantic.  Photo by Steven Gunther.
Flash forward to today: Next stop REDCAT.  When I heard that the Wooster Group was performing at L.A.'s Roy and Edna Disney/CalArts Theater with Oscar winner Frances McDormand, I whooshed right down to watch the Woosterites work their theatrical magic.  Besides, expressionistic painter Suzanna Schulten had strongly recommended that I see a play at REDCAT, so your most humble and obedient scribe dutifully beat a path to Downtown La-La-Land to see North Atlantic.
With Wooster's conventionalism-be-damned sensibility this production is definitely not every theatergoer's cup of tea.  Those who prefer shows like, say, South Pacific, may require a North Atlantic Treaty Organization in order to sit through this raucous, riotous production.  James Strahs' 1982 play is decidedly for those who prefer their theatre on the avant garde, experimental side.  According to press notes it takes place aboard an aircraft carrier located somewhere in the North Atlantic (where else?).  Set during the Cold War North Atlantic is a caustic satire about the U.S. military,and the sexual politics of our men and women in (and out) of uniform.  In the gospel according to Strahs the military industrial complex has a Freudian component as well.
Much theater is dialogue-driven, and while North Atlantic has its fair share of clever wordplay (especially the staccato rapid fire delivery by Ari Fliakos as gun-toting Captain Roscoe Chizzum), what is especially riveting about North Atlantic is Jim Clayburgh's berserk set and the madcap mise-en-scene imaginatively presided over by director Elizabeth LeCompte, the Wooster Group's founder.  This is combined with a soundtrack that veers — or rather careens — from Broadway musical spoofs to aircraft soaring through the wild blue yonder, as military women work their communications console like demented DJs madly mixing their turntables.
The upper portion of the stage, with said communications table, is at a jaunty angle that becomes more and more perilous, perched on something like hydraulic lifts.  This requires the thespians to have the athletic prowess and agility of those daring young men (and women) on the flying trapeze as they, astronaut-like, seem to defy gravity.  Whereas next door, at L.A. Opera, audiences ooh and ahh at various opulent sets, I've never seen anything quite like North Atlantic's contrivances, finding them to be extremely creative and innovative.  The Mad Hatter blocking integrated with the Escher-like set is dramatically exhilarating and liberating (once again, like that garage door those wild and woolly Woosterites flung open in the 1970s) from the moribund confines of ho-hum conventional stages.  At last, a set to match architect Frank Gehry's wacky design of the Walt Disney Concert Hall REDCAT.
Wearing civvies, Paul Lazar plays the on-the-make General Lance "Rod" Benders with the appropriate dash of sliminess associated with those who abuse power, especially to gain sexual favors.  Steve Cuiffo and Zachary Oberzan portray Marines Doberman and (not Hot Lips) Houlihan with Gomer Pyle-like panache.  Maura Tierney and Kate Valk are listed in REDCAT's credits as playing Corporal Nurse Jane Babcock and Ensign Word-Processor Ann Pusey — "Pussy Galore"-type femme fatales whose military duty includes catering to the Penta-goons' sexual desires.  Sporting a shaved skull, cancer survivor Tierney dons wigs and sensuous personas in order to curry favor from the males who (literally and figuratively) outrank her.
And now a word about Frances McDormand.  Why would a Best Actress Academy Award winner (for Marge Gunderson, the lovable but shrewd pregnant policewoman in 1996's Fargo, who has co-starred in many movies by the Coen Brothers and others) act in a theater with only around 200 seats and for, presumably, much less money than the silver screen coughs up?  Especially as Master Sgt. Mary Bryzynsky (whose name suggests Pres. Jimmy Carter's Defense Secretary, Zbigniew Brzezinski, one of those we have to thank for Al Qaeda), which is not necessarily even the lead role in North Atlantic?  McDormand isn't the first actor who hit it big in Hollywood and has acted with the Wooster Group — Willem Dafoe, co-star of blockbusters such as the Spider-Man hits, had a long relationship with Wooster too, somewhat similar to that of Tim Robbins with L.A.'s Actors' Gang.  And Tierney has acted on the tube in programs such as ER and Rescue Me.
I think the reason why McDormand goes from screen to stage can be found by looking at the career of another Frances and another Group — Frances Farmer, who also left Tinseltown to act with New York's Group Theatre during the Depression.  But, during North Atlantic's curtain call (that is, if the stage had a curtain), McDormand's positively gleeful smile said it all: this play and the venerable Wooster Group provides artists with the sheer joy of acting.
North Atlantic is being performed through Feb. 21 at the REDCAT, 231 W. 2nd St., L.A., CA 90012, on Feb. 16-20 at 8:30 p.m.; Sundays, Feb. 14 and 21 at 7:00 p.m.  For more info: (213)237-2800; REDCAT.org.
---
Ed Rampell was named after CBS broadcaster Edward R. Murrow and is an L.A.-based freelance writer who wrote Progressive Hollywood, A People's Film History of the United States.
---


|
| Print
---