World media are focused so narrowly on Iran's nuclear program and election-related turmoil and Western threats and sanctions that the public is unaware a battle over ownership of a politically connected Iranian university is likely to help shape the future of the Islamic Republic and its foreign relations.  We hear all about the Revolutionary Guard Corps' "grip" on Iran's economy, which irritates Iran's Western-friendly, business-backed Reformist, or Green, opposition movement.  The RGC is blacklisted by Western powers for alleged ties to international terrorism and banned weapons.
But another, equally monumental conflict over management transparency versus business freedom in Iran is virtually unknown outside the country, despite its international implications.  It involves the Islamic Free University, a chain of dozens of college campuses with almost two million students.  IFU's leadership supports challenges to government authority in general and the current president, Mahmoud Ahmadinejad, in particular.  Now, opponents of IFU autonomy seem to have the upper hand.
The battle over control of the school is fought at the highest levels of Iran's national power structure.  In a nutshell, the Reform faction, whose defeated presidential contenders, Mehdi Karroubi and Mir Hossein Mousavi, led months of street protests after last summer's elections, supports IFU's claim that it is a private institution not answerable to the government.  Forces that back President Ahmadinejad and Supreme Leader Ayatollah Ali Khamenei against Western pressures, on the other hand, have campaigned vigorously to re-assert public control over the educational corporation, especially since election-related clashes began last summer.  On the surface, the question at the heart of the dispute is whether grants of public land and other government aid disqualify IFU as a private institution.
Student Demonstration in Front of the Parliament, Iran, 1 Tir 1389/22 June 2010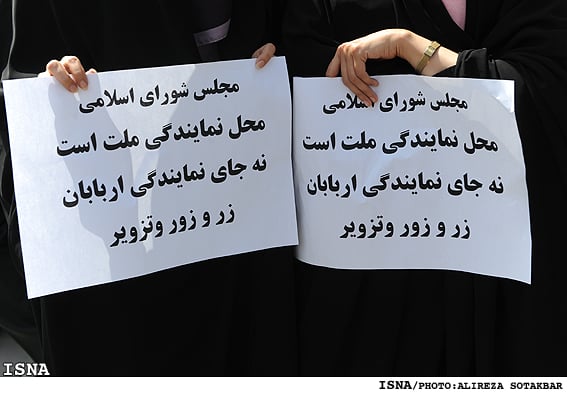 "The Parliament Belongs to the Representatives of the Nation, Not a Place for the Representatives of the Bosses, the Masters of Money and Power and Deception"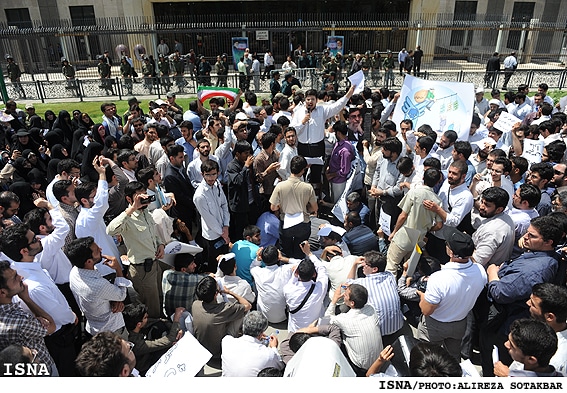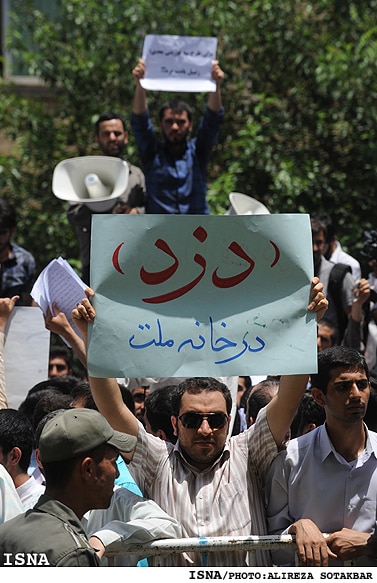 "Thief in the House of the Nation (Parliament)"
Here are images of student protests against IFU outside the Iranian parliament yesterday.  The protesters demand that the latest in a string of bitterly contested legislative efforts to shield the university from government scrutiny be abandoned.  They have vowed to stay as long as lawmakers debate the legislation.
According to the New York Times, a key north Tehran campus of IFU was home to a sophisticated campaign support operation for the Reformists in the lead up to the 2009 elections.  Business tycoon and former president Hashemi Rafsanjani co-founded the university nearly three decades ago and has chaired its board of trustees since.  He is Iran's leading privatization and deregulation advocate and, as chairman of the state Expediency Council and the Assembly of Experts, he is the Reform faction's most influential backer.
In 2005, Rafsanjani ran for a third term as president, but lost to Mahmoud Ahmadinejad, whose tougher stance on Iranian national rights is playing no small part in the current standoff with the West.  Critics fault Rafsanjani with having his cronies appointed to key posts at IFU and rewarding his loyalists with undeserved advanced degrees.  Last year's campus center for Reformist mobilization was overseen by Rafsanjani's son, Mehdi, who fled to Europe after the elections and is now wanted by Iran's justice ministry for questioning.
After his re-election last year faced stiff opposition from Reformists, President Ahmadinejad floated the idea of a government takeover of Tehran's municipal rail transit company, or Metro, which is headed by another Rafsanjani son.  The idea did not fly, but planned government funds for Metro's expansion were held up for months.
IFU's opponents in the Iranian legislature complain often that the university has for three years thwarted audits mandated by the parliament.  For months this year IFU has insisted publicly, with help from friendly legislators, that its multibillion dollar assets should be re-classified as an endowment.  The Ahmadinejad administration and pro-government pressure groups have blocked those efforts and succeeded in reasserting the authority of the Supreme Council for Cultural Revolution over IFU.  As a result, for the first time in decades the university's board of trustees has had to accept members that it does not especially favor.
It also seems increasingly likely that the university's powerful "president for life," Abdollah Jasbi, will be replaced in the near future.  If continued, this is a trend that can loosen Rafsanjani's grip.  It is not yet clear whether his reported threat late last week to resign from all official posts is a bluff intended to intimidate IFU challengers.
---
Rostam Pourzal is a Washington, DC-based political analyst.

---

| Print
---