The New York Times told readers that the Fed's ability to take steps to boost the economy are limited because:
The dramatic expansion of the national debt — which began in the Bush administration, via hefty tax cuts and two wars — has ratcheted up fears that, one day, creditors like China and Japan might demand sharply higher interest rates to finance American spending.
It may be true that such "fears" may prevent the steps to raise employment in the same way that children fear monsters in the dark and therefore feel the need to keep the light on when they sleep, but reporters should also point out that such fears have no basis in reality.  If China and Japan "demand sharply higher interest rates," then it would mean that the dollar would fall sharply against their currencies.
This is exactly the policy that the Obama administration is ostensibly committed to.  The lower value of the dollar would lead to a sharp boost to U.S. exports and a fall in imports, lifting growth and employment.  It is difficult to understand why anyone would fear the outcome that we are ostensibly committed to seeing.  In short, the "fears" have no basis in reality and are promoted either out of ignorance or by people who have ulterior motives.
At one point the article tells readers that Germany has done relatively well in this downturn without using stimulus:
Germany, which has long harbored particularly powerful fears of inflation, has done relatively well in the current downturn without large stimulus spending, and that experience is now cited by adherents of austerity.
Dishonest adherents of austerity do cite this experience, but it is easy to show that the Germany history does not support their case.  According to the OECD, government consumption expenditures increased more in Germany since the downturn than in the United States.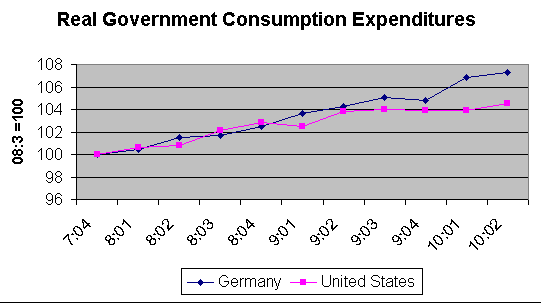 It is worth noting that Germany should have an easier time recovering from this downturn since its economy was not driven by a housing bubble.  The main impact on Germany's economy has been through a decline in exports.
It would have been useful if this article had included the views of some economists who were able to see the $8 trillion housing, the collapse of which led to the downturn.
---
Dean Baker is the co-director of the Center for Economic and Policy Research (CEPR).  He is the author of False Profits: Recovering from the Bubble Economy.  He also has a blog Beat the Press, where he discusses the media's coverage of economic issues.  This article was first published in CEPR's "Beat the Press" blog on 29 August 2010 under a Creative Commons license.
---


| Print
---