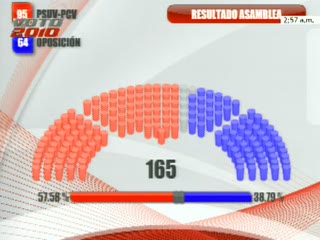 Hugo Chávez's party the United Socialist Party of Venezuela (PSUV) obtained 95 deputies in the 165-member unicameral National Assembly — in other words 58% of the seats.  The opposition captured 64 seats, 39% of the National Assembly, denying the Chávez government and its supporters the two-thirds majority that they sought.  In the Latin American Parliament elections, the PSUV won 6 of the 12 seats.  The turnout was 66%.
PSUV's national campaign coordinator Aristóbulo Istúriz said, "We couldn't achieve it [the two-thirds majority].  Nevertheless, we have obtained, so far, 95 deputies, an overwhelming majority, a really overwhelming victory. . . .  It clearly makes us the strongest political force in our country."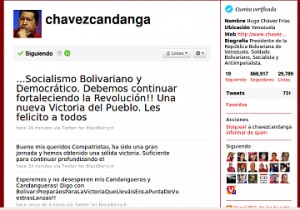 "Well, my dear compatriots, it's been a great day, and we have won a solid victory.  Enough to continue deepening Bolivarian and Democratic Socialism.  We must continue strengthening the Revolution!  A new Victory of the People.  I congratulate everyone," Chávez declared via his Twitter account.
---
For more information, visit www.telesurtv.net and www.vtv.gob.ve.
---


| Print
---