Imports fell at a 13.6 percent annual rate in the fourth quarter, contributing 2.4 percentage points to the 3.2 percent growth rate for the quarter.  The replacement of foreign-produced goods by domestically produced goods was the largest factor propelling growth in the quarter.  Consumption of durable goods, led by a surge in new car purchases, added another 2.26 percentage points to growth for the quarter.
Trade was the biggest part of the GDP picture in the fourth quarter as exports grew at an 8.5 percent annual rate, adding 1.04 percentage points to growth.  The rise in exports is pretty much keeping in pace with their growth rate since the recovery.  However the plunge in imports is unusual for a period when the economy is not in recession.
The drop in imports was clearly associated with the slower pace of inventory accumulation.  Inventories grew at just a $7.2 billion annual rate, compared to a $121.4 billion rate in the third quarter.  Many of the goods that end up in inventories are imported so the two components generally fluctuate together.  The slower pace of inventory accumulation subtracted 3.7 percentage points from GDP growth.  Final sales of domestic product grew at a 7.3 percent rate in the quarter.
In addition to the sharp rise in durable goods consumption, which increased at a 21.6 percent annual rate, consumption of non-durables rose at a 5.0 percent annual rate.  The biggest factor in this increase was a 13.4 percent rise in clothing purchases.  Services grew at a modest 1.7 percent rate, bringing overall consumption growth to 4.4 percent for the quarter.  This somewhat outpaced income growth, bringing the savings rate down from 5.9 percent to 5.4 percent, roughly the same as the 5.5 percent rate of the fourth quarter of 2009.
Investment growth weakened in the quarter, growing at just a 4.4 percent annual rate.  Most of the slowdown was attributable to less investment in equipment and software.  This component increased at just a 5.8 percent annual rate after increasing at nearly a 20 percent rate over the prior four quarters.  The biggest factor in the slowdown was a sharp drop in investment in transportation equipment.  This will likely be reversed in future quarters.
Investment in non-residential structures showed a modest 0.8 percent rise after falling for the prior nine quarters.  Residential construction rose at a modest 3.8 percent rate, far from the booms of prior recoveries.  Both components are likely to show little change in the next few quarters.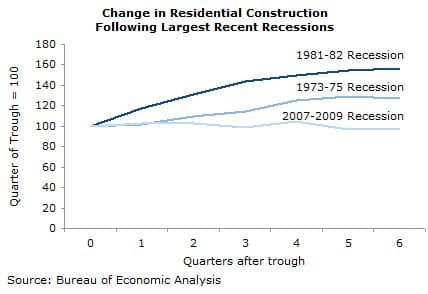 The government sector shrank at a 0.6 percent rate, subtracting 0.11 percentage points from GDP.  Both the federal and state and local sectors contracted in the quarter.  The federal government had added an average of 0.72 percentage points to GDP growth in the prior two quarters, primarily due to higher defense spending.  With defense on a downward path, the government sector will be a drag on growth through 2011 and probably beyond.
There continues to be no evidence of any inflationary pressure in the data.  The overall GDP price index grew at a 0.3 percent annual rate, while the core index rose at a 1.1 percent pace.  The core consumption deflator grew at just a 0.4 percent rate, the slowest rate since this measure was created in 1959.
The strong growth in car sales, coupled with the plunge in imports, makes it difficult to gauge the economy's pace from this report.  It is unlikely that car sales will continue to increase at anywhere near the fourth quarter pace.  In fact, if the pace slows, then car sales will be a drag on growth in future quarters.  Inventory growth will return to a more normal pace; however, this is likely to mean that growing imports are again a drag on growth.
It is likely that consumption growth will remain in a 3.0 percent range with equipment and software investment resuming the healthy growth rate of the last year.  With spending on both residential and non-residential structures remaining flat, and government spending reducing growth by 0.1-0.2 percent, overall growth is likely to be a bit over 3.0 percent.  The biggest risk is the impact of declining house prices on consumption.
---
Dean Baker is an economist and Co-director of the Center for Economic and Policy Research, in Washington, D.C.  This article was first published by CEPR on 28 January 2011 under a Creative Commons license.
---


| Print
---