The Consumer Price Index rose 0.4 percent in January while core prices rose only 0.2 percent.  Energy prices rose 2.1 percent in the month and were once again the main cause of the greater headline inflation.  By contrast, food prices have not seen high inflation.  Food prices rose 0.5 percent in January, but over the last 12 months food prices have risen only 1.8 percent compared to a rise of 1.6 percent overall.
Among categories of core consumer prices, housing prices rose 0.1 percent in January as rent and owners' equivalent rent remained stable at 0.2 and 0.1 percent respectively.  Over the last three months, rent prices have grown at an annualized 2.3 percent rate, while owners' equivalent rent grew at a 1.2 percent rate.  In part, this divergence should reflect rent increases to cover higher energy prices excluded from owners' equivalent rent.  Together, they show continued price restraint — real rents falling as a result of the bubble-driven oversupply of housing.
Transportation prices rose 1.3 percent in the month — assuredly all due to higher fuel prices.  The prices of new and used motor vehicles fell 0.2 percent in January and at a 1.3 percent annualized rate over the last three months.  Public transportation rose 1.7 percent in January, but this high rate was driven by increases in airline fare, again reflecting increased fuel costs.  Over the last three months, airfare prices have grown at a 33.0 percent annualized rate, while the prices of other intercity transportation have fallen at a 0.7 percent rate.
The price of medical care rose 0.1 percent in January as hospital services fell 0.1 percent following last month's 0.7 percent rise.  Over the last six months, the price of medical care overall has remained at a relatively modest 3.0 percent rate of inflation.
Elsewhere in core goods, the price of apparel jumped 1.0 percent last month (13.3 percent annualized).  Apparel prices are particularly erratic, and over the last six months that category's inflation rate has been only 0.9 percent.
Education and communication prices continue to be oddly grouped, with inflation in the former (6.1 percent annualized over the last three months) largely balancing deflation (a 3.7 percent annualized fall) in the latter.  Education prices overall have been largely resistant to the broader disinflation and in particular the price of books and supplies has grown at a 5.0 percent rate over the last six months.  Textbooks, being almost exclusively copyrighted, face no real competitive pressure.
The producer price of core finished goods rose 0.5 percent in January, and the data for core producer prices now shows three months of accelerating prices after a fall of 0.4 percent in October.  However, the February report on producer prices included revisions to the 2010 seasonal adjustment factors, and the revisions indicate that inflation in this category of goods has been very stable over much of the previous year.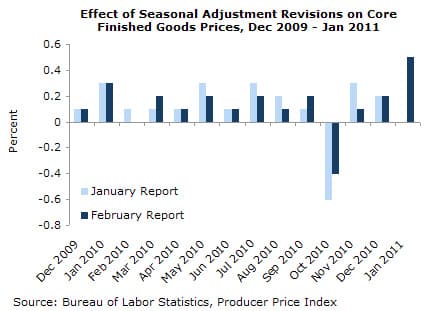 With the February release, the Bureau of Labor Statistics began reporting non-food non-fuel import and export inflation series — effective counterparts to the core consumer price series.  The price of core imports rose 0.6 percent in January, while that for exports rose 0.5 percent.  By comparison, nonfuel import prices rose 0.8 percent, while nonagricultural commodity export prices rose 0.9 percent.
Most of the inflation in core import prices continues to be driven by nonfuel industrial supplies, which account for more than one-fifth of the core index and jumped 2.3 percent in January.  The price of auto vehicles, parts and engines rose 0.5 percent in the month, following a 0.2 percent fall in December.  Over the last 12 months, inflation in this category of imports rose 1.4 percent.
Nonagricultural export price inflation also continues to be driven by industrial supplies, which rose 2.3 percent in January.  Consumer exports account for 20 percent of all exports and have seen relatively low inflation.  Export prices on non-auto consumer goods fell 0.4 percent in January while that of autos rose 0.1 percent.
Finally, the real wage fell $0.01 in January — the third such consecutive fall.  In part this is due to surging energy prices, but even adjusted for core inflation, wages have grown less than 0.07 percent over the last 12 months.
There continues to be little indication of core consumer price inflation within the economy.  Where core prices do appear to be growing, much of the price growth appears to be capturing energy prices.  Though the price of traded intermediate goods continues to rebound, there is little evidence of additional price pressure outside of energy.
---
David Rosnick is an economist at the Center for Economic and Policy Research in Washington, DC.  This article was first published by CEPR on 17 February 2011 under a Creative Commons license.
---
var idcomments_acct = 'c90a61ed51fd7b64001f1361a7a71191';
var idcomments_post_id;
var idcomments_post_url;
| Print
---