The economy added 216,000 jobs in March, pushing the overall unemployment rate down to 8.8 percent.  The growth was driven entirely by a 230,000 gain in the private sector, as the government sector lost jobs for the fifth consecutive month.  The employment-to-population ratio (EPOP) also edged up to 58.5 percent — the highest ratio since September — although this is still 4.4 percentage points below the pre-recession peak.
African Americans do not appear to be sharing in the benefits of recent job growth. The EPOP for African Americans fell back by 0.3 percentage points to 51.9 percent, just 0.1 percentage points above the recession low hit September.  The EPOP for black teens stands at just 14.8 percent.  The overall unemployment rate for African Americans rose by 0.2 percentage points to 15.5 percent.
The big gainers in this report were white women who had a 0.2 percentage-point drop in their unemployment rate to 6.9 percent.  Their EPOP rose by 0.4 percentage points to 55.7 percent.  By contrast, the unemployment rate for white men edged down slightly from 7.8 to 7.7 percent, but their EPOP actually edged down from 68.1 percent to 68.0 percent.
The employment situation for Hispanics also improved with their unemployment rate dropping by 0.3 percentage points to 11.3 percent.  This is down from 13.2 percent in November.
The median and average duration of unemployment spells both increased, with the latter setting another record high at 39.0 weeks.  The share of the unemployed who have been unemployed for more than 26 weeks also hit a record high of 45.5 percent.  Interestingly, the number of people who have been unemployed less than five weeks rose by 59,000, the first increase since November.  This may be an aberration, but it is not consistent with the improving labor market picture elsewhere in the household survey.
The job gains in the establishment survey were widely spread across sectors.  Manufacturing added 17,000 jobs in March, its fifth consecutive monthly gain.  Retail added 17,700 jobs after losing 7,800 in February.  Employment services added 35,900 jobs, following a gain of 32,000 the prior month.  While this is a good sign, it is worth noting that this sector added 167,000 jobs in the three months from October 2009 to January of 2010.
Health care added 36,600 jobs for the month, somewhat more than its 23,000 monthly growth rate over the last year.  Restaurants added 26,500 workers, following a gain of 36,000 jobs the prior month.  Accounting added an extraordinary 20,200 jobs, 2.5 percent of employment in the sector; although half of this was a bounceback from a February decline.
One serious negative item is that wages have been essentially flat over the last two months.  Nominal wage growth over both the last quarter and year have both been 1.7 percent.  This is somewhat trailing inflation, especially if the recent increases in food and energy prices are not reversed.
One interesting pattern in the relatively strong growth of the last two months is the share of production workers in total job growth.  Of the 472,000 jobs created since January, 92.3 percent or 434,000 have been production or non-supervisory positions.  By contrast, only 82.4 percent of jobs overall are in this category.  Since these jobs generally require less education, the recent growth implies more demand for less-educated workers.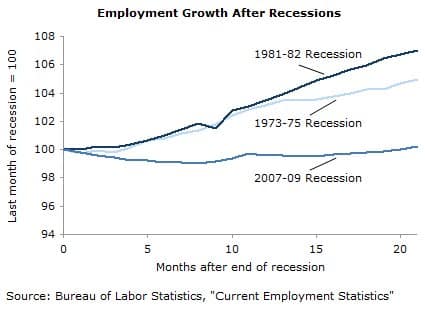 While the recent acceleration in job growth is encouraging, it is still an extremely weak recovery from a downturn as severe as we have just experienced.  Based on the experience of the last two severe recessions, 1974-75 and 1981-82, we should be expecting job growth in the range of 400,000 a month.  Instead, we are still seeing a rate of job growth that is below the 250,000-a-month average from the 90s.
It is still questionable as to whether even this pace of growth can be maintained in the wake of falling house prices and government cutbacks.  It is worth noting that the employment diffusion index, which shows the percentage of industries planning to add jobs, fell from 68.7 in February to 62.4 in March.  This is not going in the right direction.
---
Dean Baker is an economist and Co-director of the Center for Economic and Policy Research, in Washington, D.C.  This article was first published by CEPR on 1 April 2011 under a Creative Commons license.
---


| Print
---