The consumer price index rose 0.5 percent in March.  Over the last three months, headline inflation has run at a 6.1 percent annualized rate as food and, especially, energy prices have risen much faster than core prices.  Core inflation rose only 0.1 percent last month and at a 2.0 percent rate over the last three months.
Energy prices rose 3.5 percent in March and at a 36 percent annualized rate over the last six months.  Despite the rapid price increases, fuel prices are less than 5 percent above their level three years ago.  Even including food, nonenergy prices have risen at a modest 2.8 percent annualized rate over the last three months and 1.9 percent over the last six.
In core prices, rent and owner's equivalent rent each rose 0.1 percent in March — the latter for the sixth consecutive month.  Over that time, the price of rent proper has grown somewhat more rapidly than owner's equivalent rent — a 1.9 percent annualized rate, compared with 1.2 percent.  This likely reflects some passing along of energy costs in rents, which are not similarly included in owner's equivalent rent.  Even though the BLS reported 0.1 percent growth in each last month, rent prices rose 0.13 percent while owners' equivalent rent grew only 0.07 percent.
Apparel prices fell again in March.  Though apparel prices are notably erratic, they have been quite stable in recent years.  Since early 2003, apparel prices have never varied from constant by more than 1.5 percent.
Transportation prices rose 2.2 percent last month, again largely driven by higher fuel prices, which rose 5.6 percent.  Nevertheless, the price of new vehicles rose 0.7 percent last month — following a 1.0 percent jump in February — while the price of used cars rose 0.8 percent.  Both new and used car prices had been falling in months prior.
Last month, the cost of medical care rose a modest 0.2 percent, with commodities rising 0.5 percent compared with 0.1 percent in services.  The fall in inflation in medical care services in recent years is striking, but the fall relative to core inflation over the same period is not large.  Twelve-month inflation in medical care services has run about 2 percentage points higher than core the last two years, compared with an average of 2.1 percent from 2000-2007.
Core import prices rose 0.3 percent in March, compared with 0.5 and 0.6 percent the previous two months.  (The BLS index has reported core import prices only since December.)  Inflation in nonfuel imports was higher — 0.6 percent — as the prices of foods, feeds, and beverage imports rose 4.2 percent last month.
The price of capital goods imports fell 0.1 percent in March.  More than three-quarters of this index is nonelectrical machinery, the price of which has been virtually flat for two years.  It should be noted that the general fall in the price of nonelectrical machinery over the last decade is due to falling computer and semiconductor prices — a steady decline of about 45 percent since early 2001.  By contrast, the prices of capital goods excluding computers and semiconductors have risen 1.4 percent per year over that time.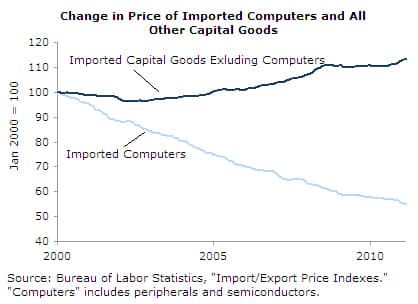 Inflation in imports of consumer goods have been either low or falling over recent months, with vehicle prices rising 0.2 percent in March and other consumer goods falling 0.2 percent.  By comparison, auto import prices have grown at a 1.1 percent annualized rate over the last six months while that of other consumer goods have grown at a 1.2 percent rate over that time.
The producer price of crude materials fell 0.5 percent last month, including an 8.2 percent fall in the price of crude fuel.  Core crude prices suddenly fell 2.3 percent in March, but there is not much to be made of this monthly change.  As recently as June and July core crude prices had fallen only to return in the next month.  However, it is possible that these prices have mostly returned to trend and will see somewhat lesser rates of inflation in the coming months.
If this month's fall in crude energy prices persists, there may be some cooling of headline inflation over the summer.  Regardless, there continues to be little sign of increased pressure within core prices.
---
David Rosnick is an economist at the Center for Economic and Policy Research in Washington, DC.  This article was first published by CEPR on 15 April 2011 under a Creative Commons license.
---
var idcomments_acct = 'c90a61ed51fd7b64001f1361a7a71191';
var idcomments_post_id;
var idcomments_post_url;
| Print
---