Images of Israeli flags at the celebrations of the independence of South Sudan have been widely circulated and commented upon in the Arabic-language media, though they appear to have received no attention in the English-language media.  E.g.:
Broadcast by BBC Arabic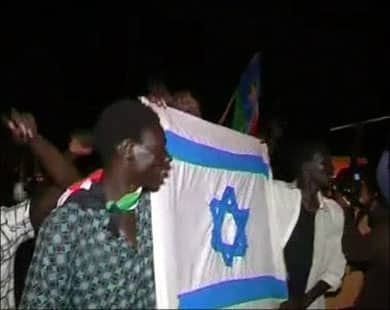 Published online by Al Jazeera on 9 July 2011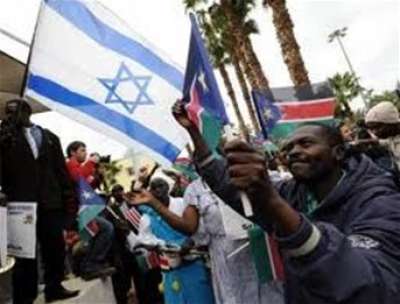 Published online by Rum Online on 9 July 2011
---
Cf. "The [Israeli] Foreign Ministry attaches great significance to South Sudan and appointed a special coordinator to deal with the subject several months ago.  The ministry has been exchanging secret messages with the government of South Sudan for a long time.  In October 2010, the president of South Sudan, Salva Kiir, declared that Israel is not an enemy and that he will weigh diplomatic relations with it, including the opening of an Israeli embassy in the capital, Juba" (Ilan Lior and Barak Ravid, "Israel to Recognize South Sudan as Independent State," Haaretz, 8 July 2011).  See, also, Fahd Bahady, "Carving Up Sudan" (MRZine, 17 November 2010); and Fahd Bahady, "Israel and South Sudan" (MRZine, 23 May 2011).
---
var idcomments_acct = 'c90a61ed51fd7b64001f1361a7a71191';
var idcomments_post_id;
var idcomments_post_url;
| Print
---