"Channels of blood or channels of sedition or channels of the other side — call them what you like.  These channels, as illustrated below, are a gun pointed to our land and our people.  We the people must stand up, face them, and fight them.  We don't allow anyone to prejudice the security of our country and its stability." — Syrian Electronic Army
Al Jazeera, Al Arabiya, Shaam News Network, BBC, Orient TV, France 24, Safa TV, Future TV, Al Mustaqbal, Al Hurra, Wesal TV
— all calling for blood in Syria
while pretending they are for protests that are . . .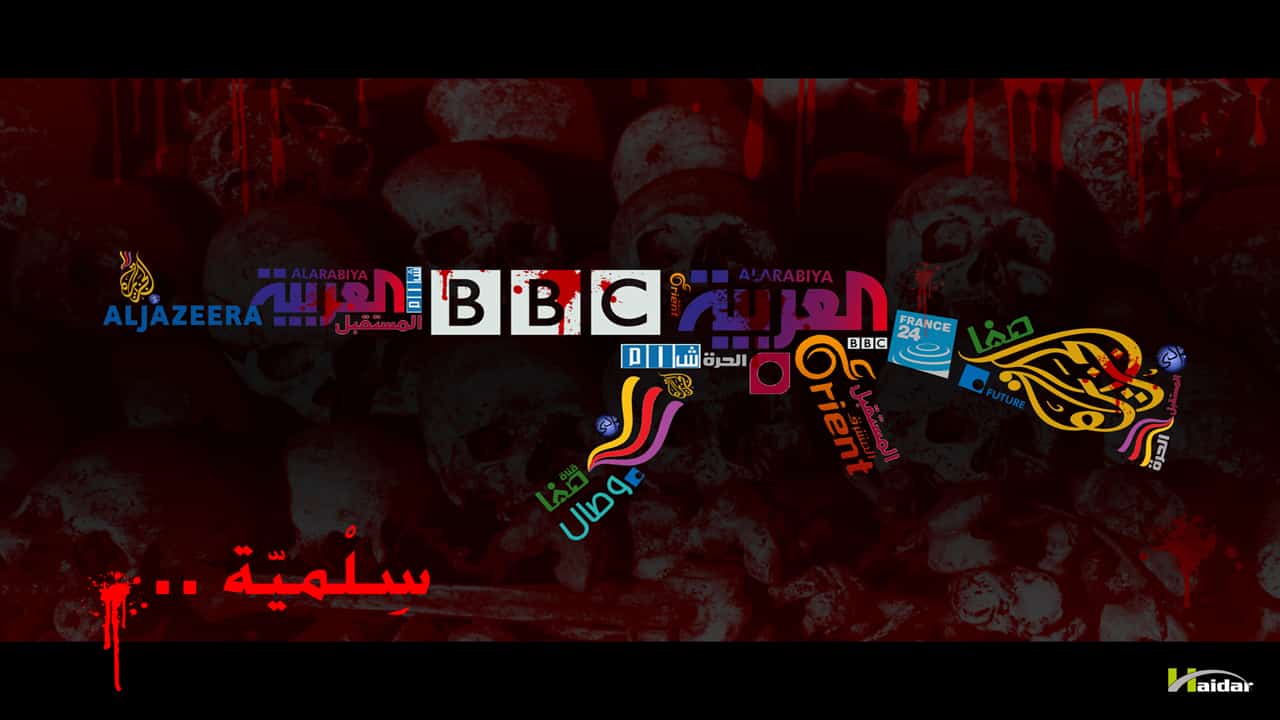 "peaceful" . . .
---
This cartoon was first published on the Web site of the Syrian Electronic Army on 2 June 2011; it is reproduced here for non-profit educational purposes.  Cf. "Yusuf Al-Qardawi heads a union of clerics: they basically follow the orientations of Qatari foreign policy.  Today, Aljazeera did not have much materials on Syria: so they ran a long statement by the Union of Islamic 'Ulama' (headed by Qaradawi) calling on the Syrian military to topple Bashshar" (As'ad AbuKhalil, "Union of Kooky Muslim Clerics," Angry Arab News Service, 13 July 2011); "Hama today does not look like anywhere else in Syria.  Etched on the face of the city are the features of 'Kandahar'" (Ghadi Francis, "As-Safir in Hama," As-Safir, 14 July 2011).
---
var idcomments_acct = 'c90a61ed51fd7b64001f1361a7a71191';
var idcomments_post_id;
var idcomments_post_url;
| Print
---