A participant's note from Burlington. . . .
I went to OWS (a week ago) and Occupy Burlington last Saturday.  I was VERY happy that, while it was the last day of the regular weekly farmers' market at the same small park, the farmers gave the Occupy Burlington people $400 worth of tokens to buy food at the market!!!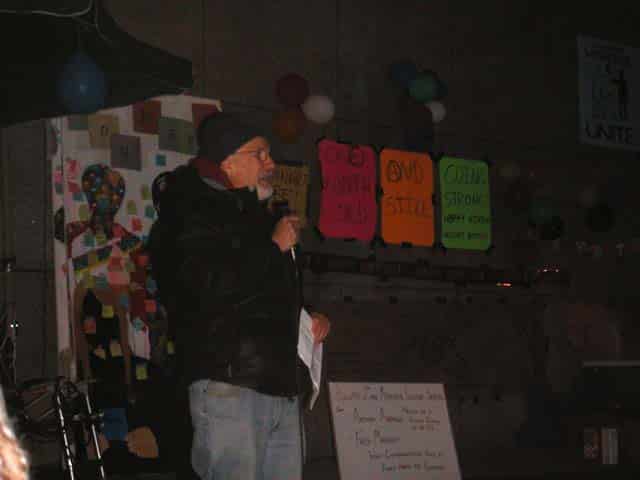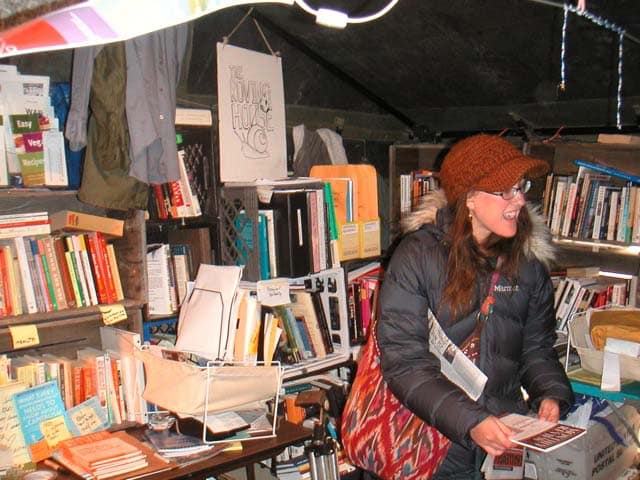 Fred Magdoff and Monthly Review at Occupy Boston.  Photo by Jay Moore.
Drove to Boston with two friends on Sunday, October 30th — spent some 4 hours there, including giving a talk at 6 pm and staying for the first part of the General Assembly (GA) meeting that started at 7 pm.  Got some more time to interact with folks there than when at OWS.  They had just gotten through Saturday night's early winter storm — and the "winterization committee" described how they spent the $1,500 they had been allocated in emergency funds to help prepare for the storm.  Spirits seemed high.  The medical tent people says that about 1/3 of the people sleeping there are homeless.  At least they have regular meals, people to protect them (I heard the safety committee's report also, along with reports from a number of other committees), and people with them who are concerned with their plight.
I think my talk went ok — people said so.  I am trying to bring the environment into their discussion, which is mainly about economics/politics.  Basically, my pitch is that it's all the same struggle and somehow we need to put all of these progressive and important struggles together in one movement.  (I actually put it that way in NYC but didn't during the presentation in Boston, though I did do so in discussions with people afterwards.)
Met a few others who had VERY good things to say about how important MR was to them.  I informed the assembled people that I had left books and copies of Monthly Review in the library tent.
---
Fred Magdoff is professor emeritus of plant and soil science at the University of Vermont and adjunct professor of crop and soil science at Cornell University.  He writes frequently on political economy.  His most recent books are The Great Financial Crisis (written with John Bellamy Foster, Monthly Review Press, 2009) and Agriculture and Food in Crisis (edited with Brian Tokar, Monthly Review Press, 2010) and What Every Environmentalist Needs to Know About Capitalism: A Citizen's Guide to Capitalism and the Environment (with John Bellamy Foster, Monthly Review Press, 2011).

---
var idcomments_acct = 'c90a61ed51fd7b64001f1361a7a71191';
var idcomments_post_id;
var idcomments_post_url;
| Print
---