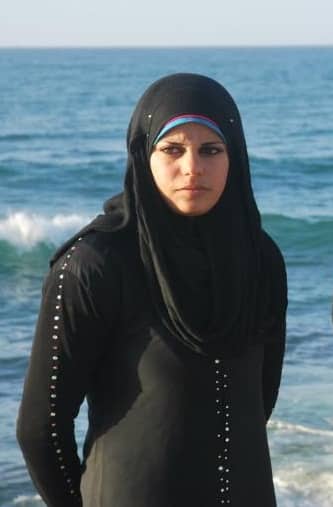 Madleen Kulab, December 19th, 2012.  Photo by Maher Alaa.
"The problems started for me at eighteen," Madleen Kulab said quietly, sitting just meters from the shore of the Mediterranean.  "The police and port authorities did not want me to sail as a woman."  Though Madleen has emerged from this recent challenge, receiving a permanent permission to fish from the Gazan Interior Ministry, this is not the first hardship she has stared down and overcome in her lifetime.
As Gaza's only professional fisherwoman, Madleen's sailing career began at an early age.  Her father, Mahrous Kulab, taught her how to fish from the time she was six years old.  "I went with my father from six years to thirteen.  Our boat had no engine at that time," she remembered with a certain fondness.  At thirteen, Madleen personally made the decision to carry on fishing and support her family when her father's legs were paralyzed from a form of palsy.  Her father initially refused to allow her to go alone, but having no other viable means to support the family, he conceded.
While many children were focusing on the usual hassles of homework and finishing primary school, Madleen found it "easy and enjoyable" to sail due to her strong background on the sea.  That is not to say that fishing off Gaza's coast has been without the typical dangers associated with maritime work nor the specific challenges that Palestinian fishers face due to the Israeli blockade.  There were frightening times, like the instance she fell overboard in rough waters or when the Israeli Navy fired on her with water cannons and live ammunition.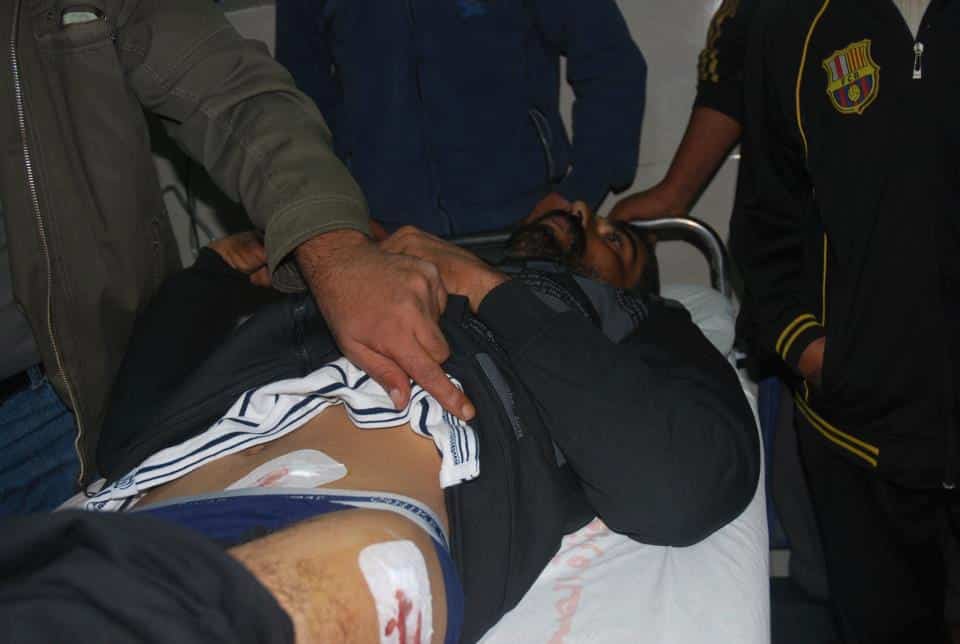 The Israeli Navy shot Gazan fisherman Mosa'ad Baker and confiscated his boat on December 17, 2012.  Photo by Maher Alaa.
"They had to know who I was and that I was a woman.  All the Gazan fishermen are forced to register with Israel so they even had my ID and picture," said Madleen.  She has intentionally limited herself to staying within the increasingly shrinking limits of the blockade imposed by the Israeli Navy to avoid troubles, but this has not spared her harassment.  She says the prime area to fish is around 11 nautical miles, but the Gazans sometimes experience confrontations with the Navy even within the three nautical miles that Israel says is acceptable.  This three-mile limit was supposedly reopened to six after the November 21st, 2012 ceasefire between Hamas and Israel, but Gazan fishermen have had little practical success, with many having been shot, arrested, imprisoned and their boats confiscated.  According to the UN Office for the Coordination of Humanitarian Affairs, 85% of the Gaza Strip's fishing waters are totally or partially inaccessible due to these Israeli military measures.
Though Madleen's fishing crew has grown to include her younger brothers and her little sister, Reem, Madleen is still the primary provider for the family and is also responsible for selling the fish in the market.  With approximately 90% of Gazan fishermen living in poverty and the industry rapidly declining, Madleen hopes that she can continue to sail for at least another two years.  "If my brothers can take over at that point, fine."  Madleen and the Kulab family have attracted considerable amount of international attention due to the uniqueness of their situation.  They received a motorized boat as an Eid gift from the Welfare Association for Youth.  Additionally, Al Jazeera, BBC, and Press TV ran features about Madleen.
2012 proved to be the most challenging year for Madleen when she crossed the line into official womanhood in the eyes of the law.  Her boat was confiscated by Hamas authorities and held for nearly six months.  With the assistance of concerned Gazans and human rights organizations, Madleen challenged the impoundment in court and won.  She is now the only permitted fisherwomen in Gaza, provided that she does not sail with any other adult males.  This makes her work difficult, but she is eager to be on the water again and earning money for family.  When asked about general acceptance from the other fishermen, Madleen replied, "I have no problems with the fishermen.  They support me and treat me as a daughter or sister."  Without question, she deserves their respect.
Madleen is currently resuming school after taking a year's break to work.  She hopes to study sport in college, and she has recently passed an examination by the Civilian Defence Administration for swimming and diving.
---
Joshua Brollier is a co-coordinator with Voices for Creative Nonviolence in Chicago.  He has just returned from an emergency delegation to the Gaza Strip.  He can be reached at <Joshua@vcnv.org>.
---


| Print
---