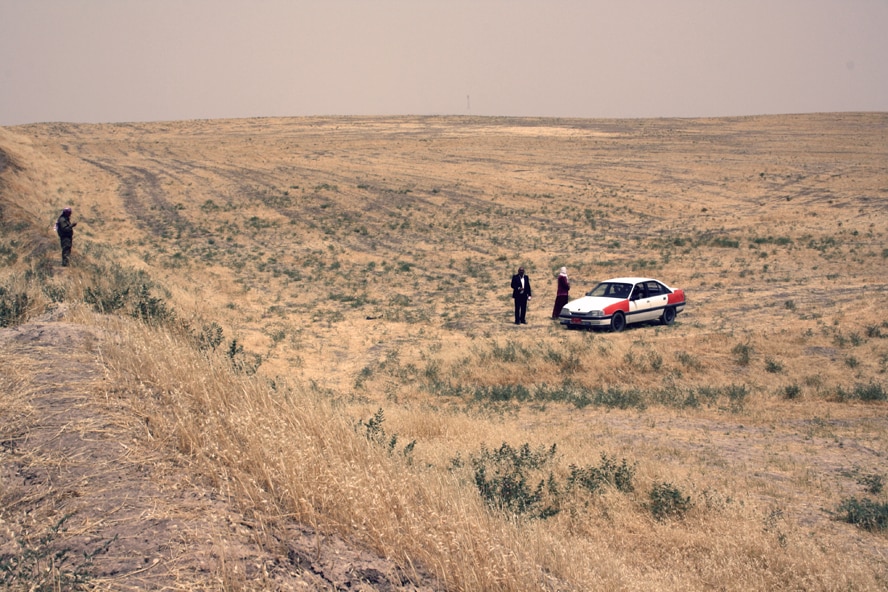 Syrian refugees fleeing for Iraqi Kurdistan, at the Girbalat crossing, northeast of Syria.  In 2012 alone, over 50,000 Syrian refugees have fled the civil war for Iraqi Kurdistan, according to Kurdistan Regional Government (KRG) officials.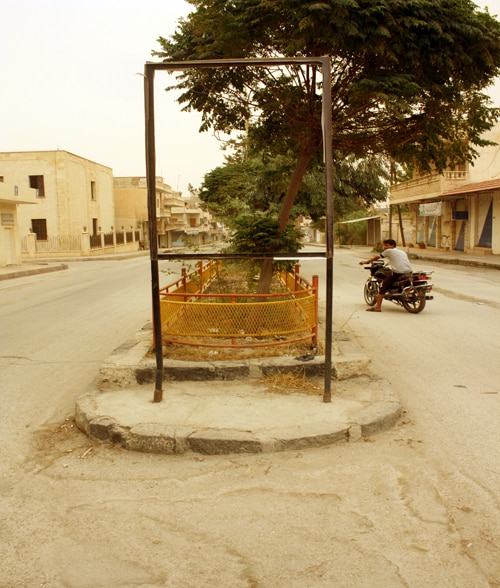 An empty frame now, it long displayed a portrait of President Bashar al-Assad in central Derek, a Kurdish town bordering Turkey to the north and Iraq to the east.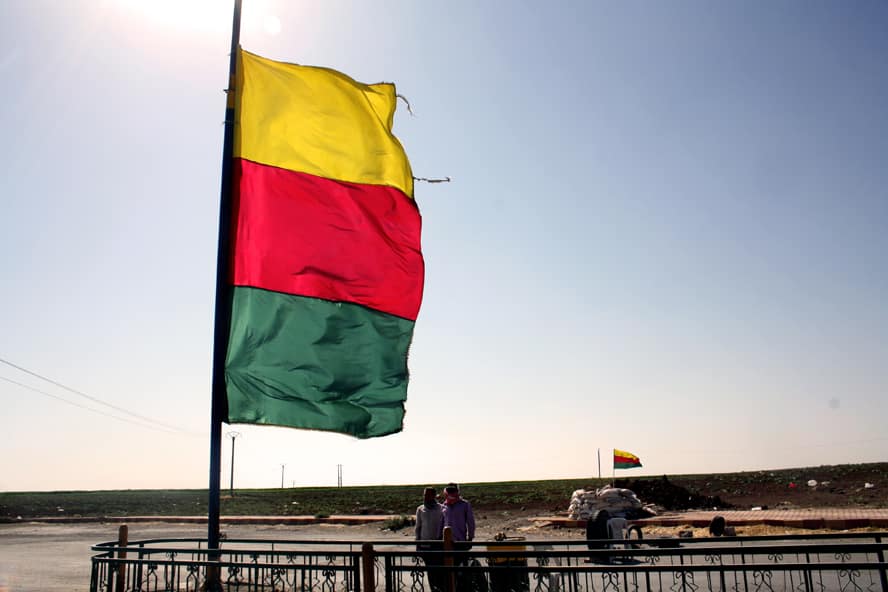 Kurdish flags flying over an exit checkpoint outside Derek.  The town was declared "liberated" from the Ba'athist regime by mass protests and a short gun battle on July 19th, 2012, which resulted in the killing of three Syrian soldiers and one Kurdish activist.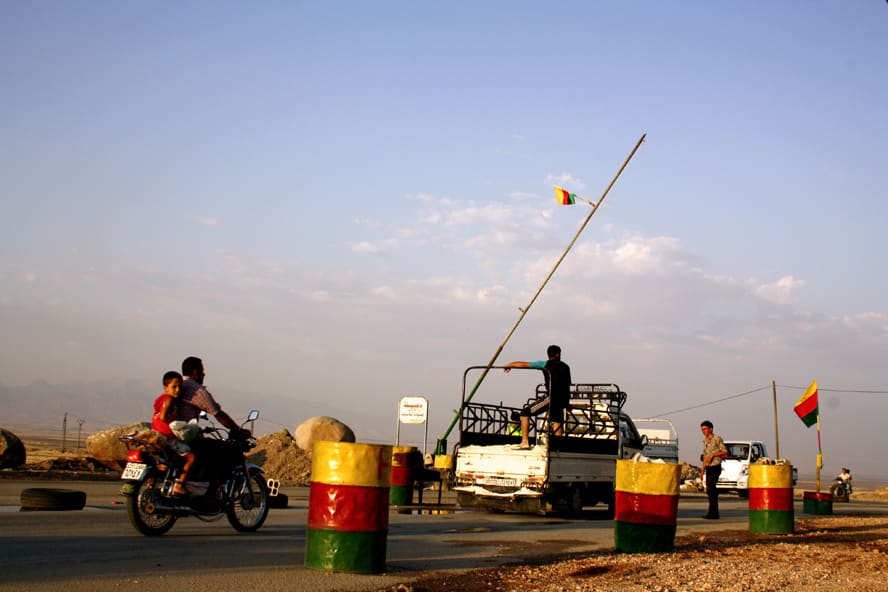 A civilian checkpoint outside the town of Amude checking for weapons, as the recently established local Kurdish authorities have outlawed gun carrying inside the towns and cities, although it is OK to have them in the outskirts or outside the urban areas.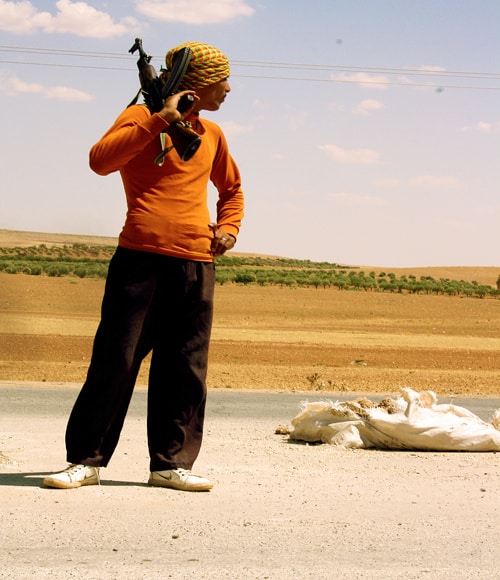 17-year-old Dilgesh Kocher guarding the motorway that links together the Raqqa region and the city of Aleppo.   He said, "It is a revolutionary duty to protect our homes from the civil war and guard our recently liberated Kurdish areas.  I do 8-hours shifts, three times a week."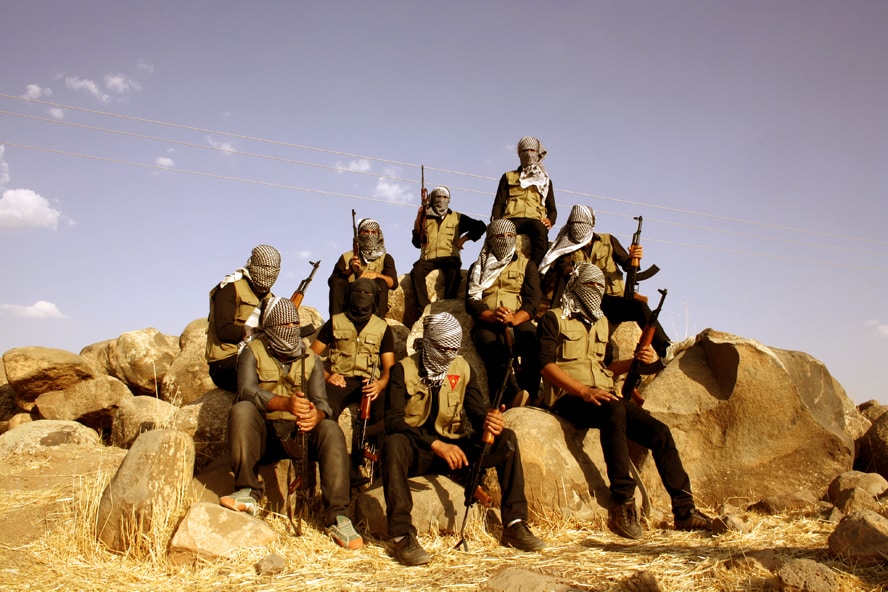 Members of the People's Defense Units (YPG) giving an interview on condition of anonymity outside the town of Derek.  "We are a self-organized broad popular militia protecting the people of Syria's Kurdistan," the commander claimed.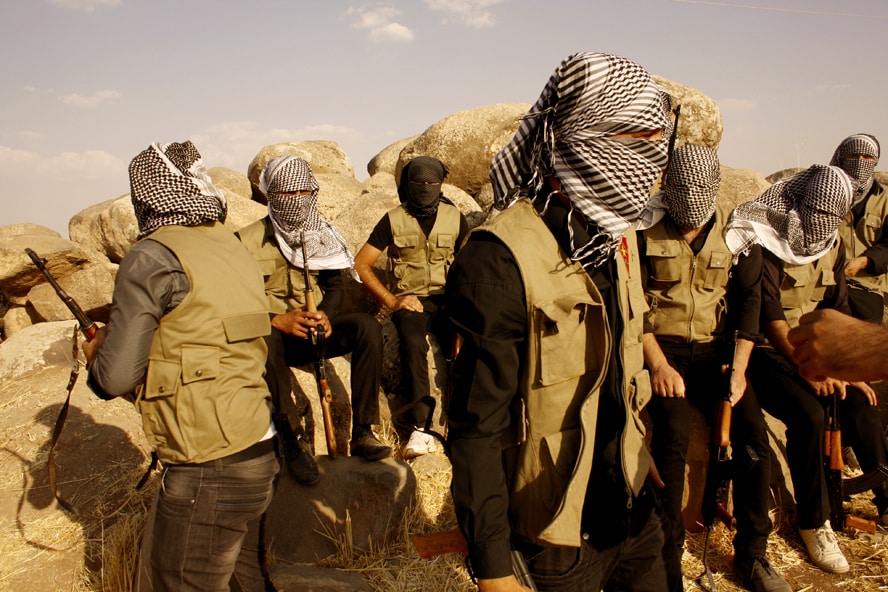 The YPG militia, established on local basis after the Syrian army had withdrawn from the Kurdish region back in July, now claims: "We have 15,000 volunteers across Syria's Kurdish north."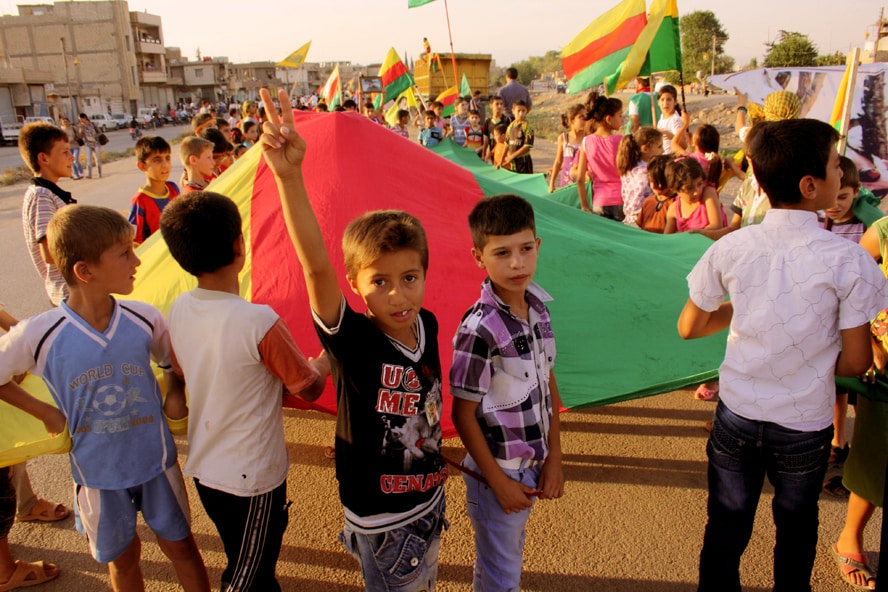 Aram Cizri, 11, leading a "warm-up rally" for a demonstration later in the night in Derek.  For the previous 50 years, Kurdish political assemblies in Syria had been outlawed as acts of "terrorism"; since the "liberation," however, even children take to the streets, en masse.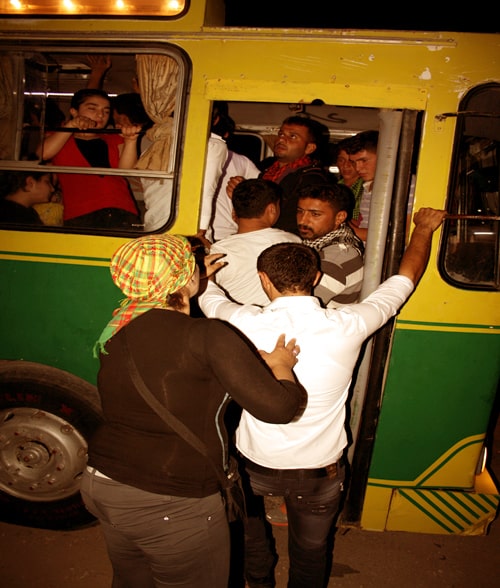 Protestors push for a place on a typical free bus driving to a Friday demonstration in the yet-to-be-"liberated" Syrian Kurdish capital city of Qamishlou.  Kurds in Syria have turned Friday into a national day of action to express their rights and freedom across the country.

A protestor in central Qamishlou waves the flag of the autonomous Kurdistan Region of Iraq (KRG), signifying the same autonomous rights for stateless Kurds in Syria too.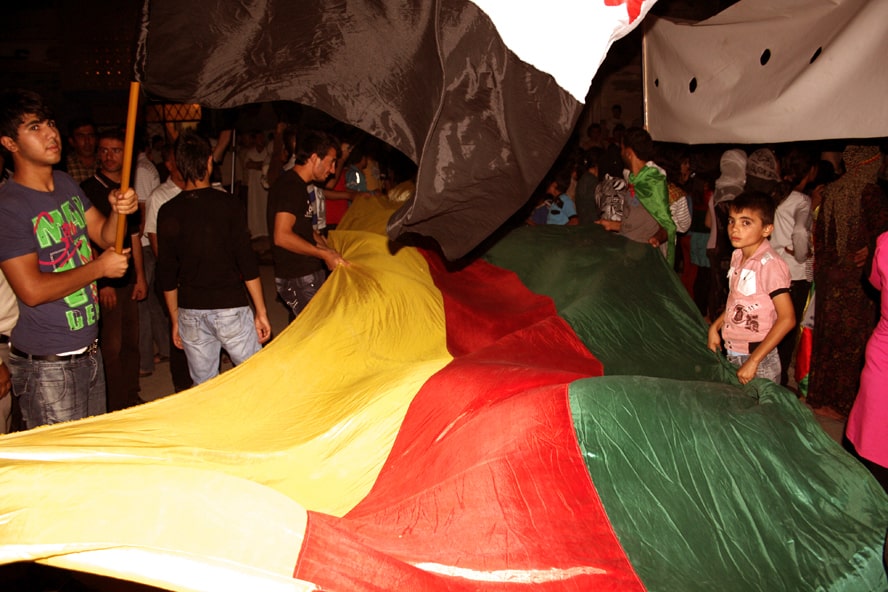 The streets in Qamishlou are normally full of Syrian Army soldiers and their checkpoints are set up everywhere to stop and search people; on Fridays, however, only Kurdish demonstrators are in sight, as the soldiers remain inside their buildings to avoid conflict.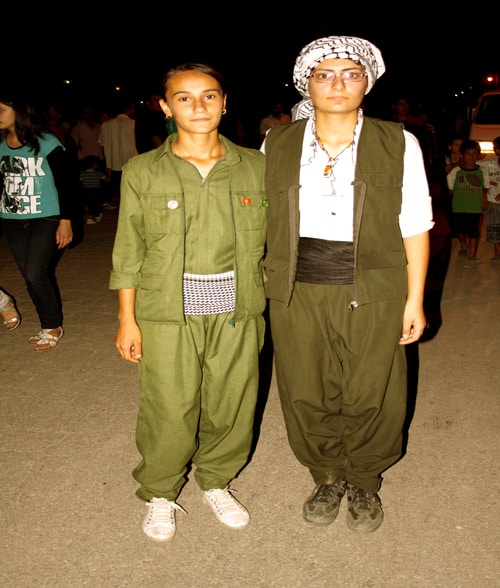 Two young girls at a youth rally in Derek, dressed in Kurdish guerrilla outfits and wearing badges displaying portraits of Abdulla Ocalan, the imprisoned leader of the Kurdistan Workers Party (PKK) in Turkey.  The guerrilla dress is in fashion and in demand now amongst Kurdish youths in Syria, as it symbolizes revolution and Kurdish resistance to occupation.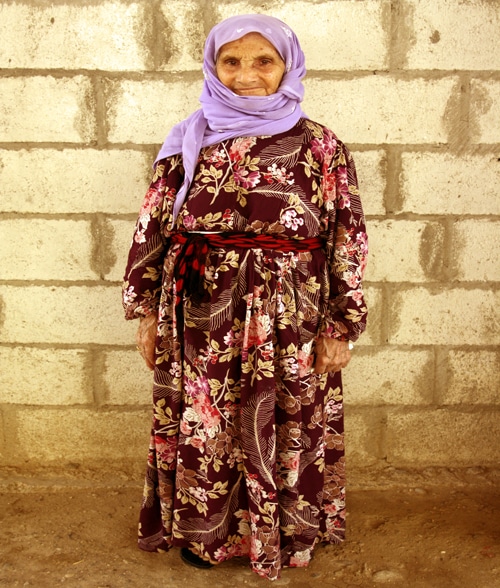 Fatima Mohammad, 75, or "Mother of Revolution" as the locals called her in Derek for having her son and daughter "martyred" while fighting for the PKK in Turkey.  8,000 Syrian Kurds are amongst the 40,000 PKK "martyrs" killed during the Turkish-PKK conflict that has raged for nearly three decades in southeast Turkey.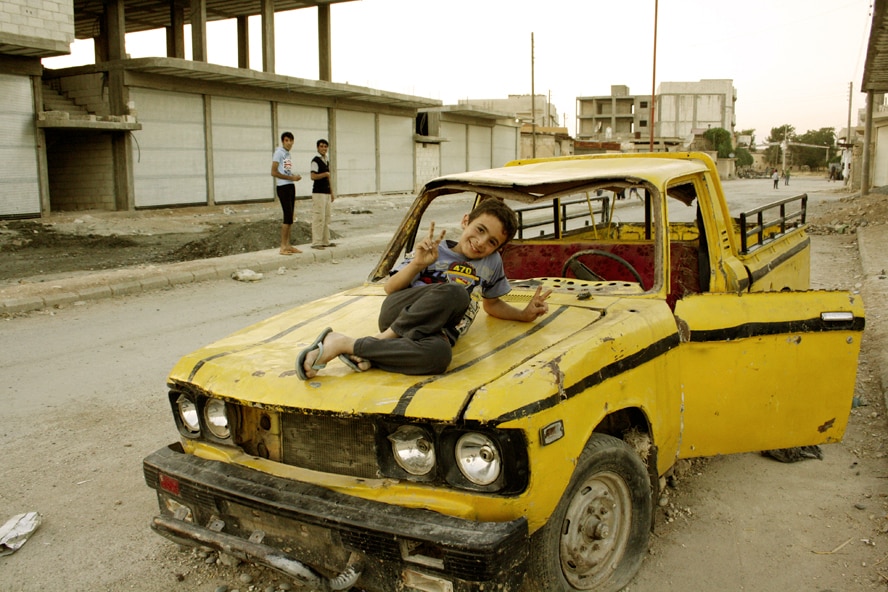 Xemgin Fazil, 10, outside his home in the Kurdish city of Kobane, the first Kurdish town to declare "liberation" from Assad's forces on July 17th. .  He often plays on this street, which is several yards away from the official Turkish border post located just behind him.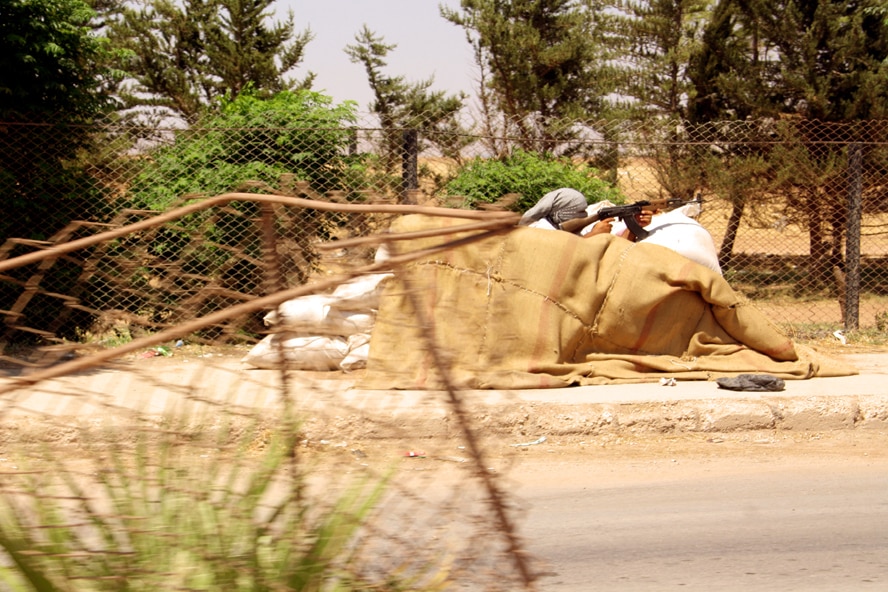 Kurdish militiaman barricading on Kobane's motorway, observing what is coming from neighboring Aleppo.   Kobane is perceived by the Kurds as the most "dangerous" city in Syria's Kurdish north, as it is bordering the besieged city of Aleppo to the west and Turkey to the north.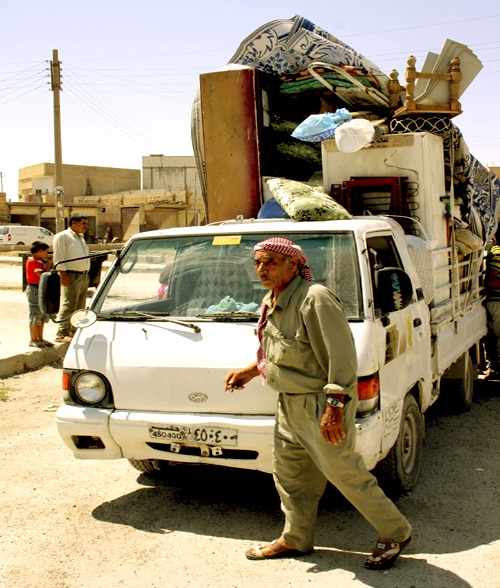 Babi Shilan, fleeing Aleppo for Kobane with his family, waits for Kurdish activists at Kobane's entrance to find him shelter in the new city.  1.5 million Syrians are internally displaced because of the civil war, says the UN.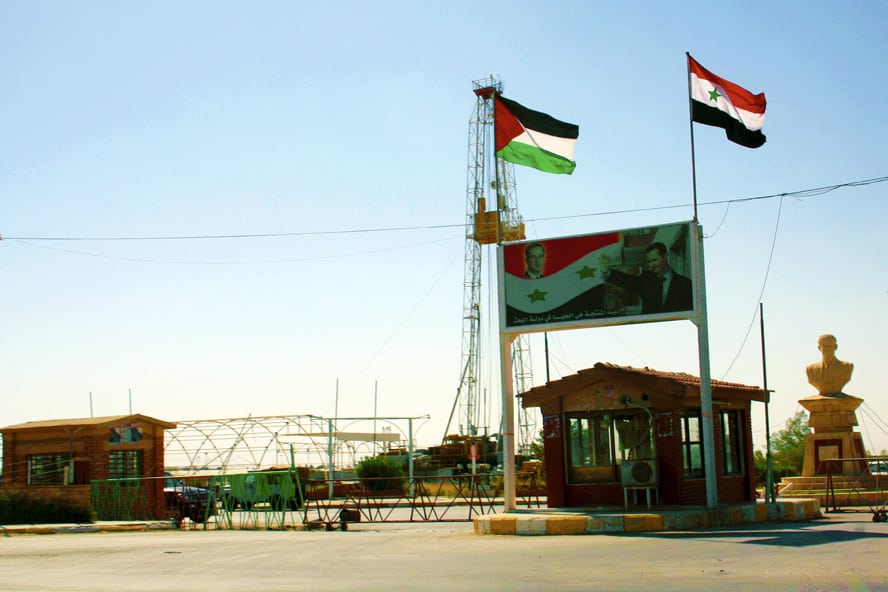 The regional branch office of the ruling Ba'ath Party in the town of al-Jawadia in Syria's north, where many Syrian Army soldiers still hold the ground and no rebel group has yet managed to take them on.   "It is like a sacred place for the army — they won't give it up," said our taxi driver as we drove by it on route to Aleppo.
---
Rozh Ahmad is a British freelance journalist of Kurdish origin.  See, also, Rozh Ahmad, "The Kurdish Rebellion in Syria: Toward Irreversible Liberation" (MRZine, 23 January 2013).

---


| Print
---