Diyarbakir (Amed)
After nearly three decades of war, Turkey's Kurdistan region, home for an estimated 25 million stateless Kurds, warily awaits a long-lasting peace.
For the last 29 years this region has been ravaged by a ferocious conflict between the Turkish army, the NATO's second largest, and the Kurdistan Workers' Party (PKK), a guerilla movement claiming to fight for cultural and political rights of Turkey's minority Kurds.  They have fought each other in a war that has reportedly claimed the lives of more than 40,000 people on both sides, during which 5,000 Kurdish villages were destroyed or depopulated allegedly at the hands of Turkish soldiers.
The fighting has halted for nearly three months now, since the imprisoned PKK leader, Mr. Abdullah Ocalan, commonly known as "Apo" (Uncle) among the Kurds, announced in a truce letter that the "guns should fall silent, ideas and politics must talk."
Mr. Ocalan's letter calling for an eventual Kurdish-Turkish peace was written from his Imrali Island prison on Turkey's Marmara Sea, where he has been incarcerated in solitary confinement for the last 14 years.
His letter was publically read out, first in Kurdish then in Turkish, for 2 million congregants on the eve of the Kurdish Newroz New Year celebration on March 21st, 2013 in central Diyarbakir (Amed), the unofficial capital of Turkey's Kurdistan region.
The U.S., the EU, and Turkey have long designated the PKK as a "terrorist" organization, but all welcomed Mr. Ocalan's call for peace and the world has since perceived his call as an end to the Kurdish insurgency in Turkey.
However, the PKK essentially has not called for an end to their armed struggle, and Mr. Ocalan's letter was only followed by the PKK announcing a ceasefire and withdrawal from Turkish soil to their compounds situated in the mountainous border regions of northern Iraqi Kurdistan, from where the PKK has operated for the last 20 years and which the party prefers to identify as the "Medes Defense Region."
The PKK is believed to have around 5,000 guerillas inside Turkey and they began to withdraw in small groups from May 8th, 2013.
The withdrawal has indeed marked a turning point for Kurdish-Turkish politics as the war devastating the region for decades has now temporarily paused, but it is rolling at a snail's pace.  PKK commander-in-chief Murat Karaylan said, "It will take months for the guerillas to safely and entirely withdraw" from Turkey.
Despite the generally favorable opinions among both Kurds and Turks about the whole peace talks dubbed "solution process," there still exist mixed feelings on both sides in Turkey.
Given that Mr. Ocalan is in talks with Hakan Fidan only, head of the Milli İstihbarat Teşkilatı (National Intelligence Organization, MİT in Turkish acronym) and no Turkish politician representing the government is involved in the negotiations, Kurds are doubtful, complaining that the ruling Justice and Development Party (AKP) of Prime Minister Recep Tayyip Erdoğan is adamant on dealing with the Kurdish question merely as a security impasse, rather than politically answering the demand for democratic rights of a minority, who make the world's largest stateless nation and whose identity and very basic right to education in their mother tongue have been denied by consecutive Turkish regimes for nearly a century now.
In the cafés located on the well-known "Kucey Huner" street in central Diyarbakir, where Kurdish intellectuals, poets and artists, usually congregate to debate current affairs, peace with Turkey is what they discuss all day long now, but their repeated response to questions about their thoughts on Turkey-PKK negotiations is that "we distrust the Turkish state because of the oppression we have faced for countless years."
Others claim that the government of Premier Erdoğan has yet to take crucial steps toward peacemaking with the Kurds when an estimated ten thousand Kurdish political prisoners arrested on alleged "terrorist" crimes, including their leader Mr. Abdullah Ocalan, are yet to be released.
According to Insan Haklari Derengi (Human Rights Association, IHD in Turkish acronym) in Turkey, "[a]lmost ten thousand political and non-political activists have been arrested in the last three years alone for alleged links with the PKK and the KCK."
The widespread crackdown on Kurdish dissent in Turkey began soon after the first ever Turkey-PKK negotiations, "Oslo talks," failed in 2010.  The clampdown is known as the "KCK Dossier" because the apprehended are accused of having links with the outlawed Kurdistan Communities Union (KCK), a Kurdish umbrella organization, of which the PKK is an affiliate.
The IHD in Turkey claims that "400 Kurdish political prisoners are now seriously ill at Turkish prisons; 120 of them are on the verge of death and must be released as soon as possible."
However, as yet the Turkish state has not made any sign indicating the release of these political prisoners, although their freedom is one of the PKK's top demands if the peace talks are to progress further.
"Unless those political prisoners and activists are released, no one will believe in peace here in Kurdistan," said IHD chairman in Diyarbakir, Raci Bilici.  "The Kurdish people do not trust the Turkish state since no efforts have been made to release political prisoners seriously ill and on deathbed at their prison cells."
Emphasizing the PKK's demand for the immediate release of all Kurdish political prisoners, Bilici added: "Nobody would believe in peace while their brothers and sisters are still living in that terrible situation inside Turkish prisons.  The government must free all the political prisoners, especially if they want the Kurds to lay down arms for good."
Kurds also demand that the "anti-terrorism" law and the martial law that considers Kurdish areas as "critical regions," both of which have paved the way for huge military deployment to Kurdish cities, towns, and villages in the last 29 years, "must be abolished — otherwise, peace is impossible."
"The martial and terrorism laws labels us Kurds terrorists," said Dilges Imran, a self-employed lawyer in the Kurdish town of Cizre, adding that, without the Turkish government changing these laws, "[n]o peace will be ever made, it is impossible as the PKK as well as the entire Kurdish population demands that as part of the first steps to ease tensions."
But the Turkish government seems impervious to these Kurdish demands.  On the streets of Diyarbakir nothing has changed in terms of Turkish military routine, as soldiers on the streets stand ready to act with arms in hand if any Kurd disrupts, or even appears to disrupt, their "rules of engagement."
Even though the PKK has begun to withdraw, Turkish police and security forces are yet to be at ease across the Kurdish region.  Turkish security personnel of the notorious "Special Forces," created mainly to deal with the Kurdish insurgency, still patrol the streets of Diyarbakir carrying M16 rifles.  Dozens of gigantic military barracks surrounded by barbed wire are still on alert in and around Diyarbakir's city center.  It is as if the Turkish military is completely unaware about the fact that peace talks with the PKK have been underway for months now.
Pointing at the Oktar Cobra army vehicle of the "Special Forces" parked outside the famous Hasan Pasha breakfast lounge in central Diyarbakir, Cemal Alaatin, a local painter, said, "Look at these soldiers, do they look like they are here for peace?  No, for me they don't seem to have ever heard of the word 'peace'."
He added that militarism does not go hand in hand with peacemaking, which is why he believes that the peace process in Turkey "is an illusion until these soldiers leave us alone and their sickening vehicles and military equipment stop disturbing the beautiful nature of our city."
For the Turkish population, however, the doubts are of different character.  Although nationwide polls suggest that the vast majority of the population support negotiations with the PKK, yet many accuse Premier Erdoğan of duplicity, mainly because of the many contradictory positions he has on the Kurdish question.  Moreover, many Turks assert that the ins and outs of the agreements between the Turkish state and the PKK are yet to be publically announced for the people to decide whether or not they want such agreements.
To get Kurdish support behind his party, Premier Erdoğan said during an official visit to Diyarbakir in August 2005: "Turkey has a Kurdish issue."  For the Kurds his speech was of historic significance as it distinguished him as the first ever Turkish Prime Minister to openly admit to the Kurdish question in the country.  But that position of his was to last only until April 2011, when this time round he needed the backing of Turkish nationalists and, to rally them behind his party, he publically announced the contrary: "There is no Kurdish issue in this country.  I do not accept it."
Aylem Lutfi, a Turkish student of civil engineering who had come to Diyarbakir to see her Kurdish friends, said that the public, Turks and Kurds, have the right to know about the agreements the AKP government is making with the PKK and accused Erdoğan of taking "double standard " positions.
"It must be transparent," she said.  "It is the very simple democratic right which everybody is entitled to in a democracy, but our government is making back-alley agreements with the PKK."
Lutfi recalled that for the last 29 years the Turkish state had led Turks believe that the PKK was a "terrorist" organization.  "Now they are making friendly deals with them [PKK].  Our government is too embarrassed to tell us that they have lost the war and it is now the PKK who decides on the conditions for peace, not the much-propagandized 'mighty' Turkish state that we were told we had and protected our so-called 'glorious' Turkish nation."
Despite the open doubts and suspicions on both sides, however, Turks and Kurds alike seem to be generally favorable toward the peace talks, simply because no dead bodies of Kurdish guerilla fighters or Turkish soldiers have returned to their hometowns from the Kurdish mountains since the talks got underway.
"We Kurds have no problem with Turks, we are OK and we have learned to live together side by side, so we want peace, but we both have problem with the state," said Hekim Ertgu, a secondary school teacher in Diyarbakir, whose younger brother, Ismail Ertgu, was last year killed in Sirnak region allegedly at the hands of Turkish soldiers during a military operation.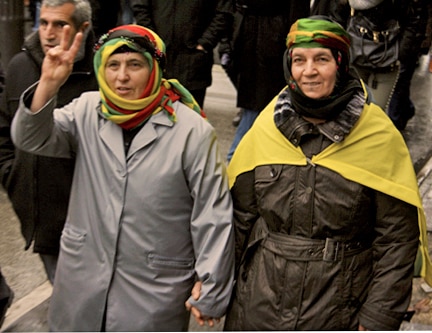 Members of "Peace Mothers" marching in Paris to condemn the assassination of three Kurdish women activists in January 2013.  "Peace Mothers" is a women's civil rights organization in Turkey established in 1999, which aims to promote peace among Turkey's ethnic groups through non-violent means.  Many of the women involved have lost close relatives in the Kurdish-Turkish conflict.  Photo by Rozh Ahmad.
He added: "How could we Kurds trust a state which for the last 30 years has burned and bombarded our land nonstop and killed our children indiscriminately?  We never believe this Turkish republic will make peace, it has to be democratized first, and it is us Kurds who make peace in our own country, through which we can hopefully democratize the Turkish republic."
Ertgu said that the Kurds have opted for peace because they are "a democratic nation, we are not terrorists and we proved that for the people of the world during this year's Newroz celebration."  But he warned that Kurds could easily retaliate with arms in hand if the Turkish state were to renege on the promises for reconciliation with the Kurds and the PKK.
"Our Kurdish land smells of blood and gunpowder and people are happy [with the negotiations] only because in the last months no dead bodies have returned to this city [Diyarbakir].  But if the Turkish state is to cheat us in anyway like they did in the past [in the 2010 Oslo Talks], then Kurds can continue with the war and we are capable of doing so given that the Kurdish nation has been fighting for nearly 30 years now. . .  We can do it all over again in an instant because we Kurds have no rights here and have nothing to lose," he warned.
Ertgu's views on Kurdish armed retaliation aren't implausible. On June 3rd, 2013, while en route to their compounds in northern Iraqi Kurdistan, withdrawing PKK guerillas exchanged fire with Turkish soldiers in the Kurdish Roboski area of Sirnak region, which reportedly wounded one soldier and was quickly followed by a Turkish Air Force Cobra bombarding the entire area.
The PKK is yet to confirm the crossfire; and the Turkish army had downplayed it, saying, "[T]errorists had opened fire, one gendarmerie sergeant was slightly wounded by one of the stones ricocheting off the ground. . .  But a cobra attack helicopter was subsequently dispatched to the area."
This was the first such incident since the PKK had begun to gradually withdraw from Turkey.  It is still unclear whether this incident, or any subsequent incidents like it, could lead to yet another total war or both sides would rather ignore them to keep up the historic negotiations.
Nevertheless, the incident is a reminder of just how unpredictable the Turkey-PKK peace process could be . . . and how fragile is peace and how tenacious is war in this region of the Middle East.
---
Rozh Ahmad is a British freelance journalist of Kurdish origin.  See, also, Rozh Ahmad, "Syrian Kurds — a Photo Essay" (MRZine, 20 January 2013); Rozh Ahmad, "The Kurdish Rebellion in Syria: Toward Irreversible Liberation" (MRZine, 23 January 2013); Rozh Ahmad, "The Unusual Uprising in Iraqi Kurdistan, Two Years On" (MRZine, 16 February 2013).
---


| Print
---