The National Front of Popular Resistance alerts the Honduran population and the international community to the grave danger that menaces the lives of over 3,000 peasant families of the United Peasant Movement of Aguán (MUCA), against whom a major military and political operation is being executed with the aim of evicting them from the lands they currently occupy.
In the last several hours, reports of increasing aggressiveness of soldiers have come in, and it is feared that at any moment the oligarchy may order the de facto regime of Porfirio Lobo to use repressive apparatuses of the state to attack the peasant families peacefully demanding their right to land.
From now on we hold Porfirio Lobo, de facto Minister of Security Óscar Álvarez, and landowners Miguel Facussé Barjum, Reinaldo Canales, and René Morales responsible for any violation of human rights committed by the military, police, and paramilitary groups who are part of the military deployment.
We issue a call to the international community: condemn these acts of violence against the civilian population and demand that this offensive, which may end in a massacre, be halted.
There will be neither peace in the region nor any satisfactory agreement if the following conditions are not met:
Recognition of the rights of peasant men and women to obtain such access to land as is established by the Constitution of the Republic.
Immediate and unconditional withdrawal of the military from the peasant settlements.
Dismantlement of the paramilitary organs in service to landowners.
Investigation and condemnation of those who are responsible for murders and other human rights violations.
We are calling a Big March of Peasant Sombreros, to be held on the 15th of April in Tegucigalpa, to demonstrate our solidarity with our comrades of MUCA and all the peasant struggles being fought in this country.  Likewise, we call on the members of the Popular Resistance to remain alert for other coordinated actions which will be held to defend the rights of working people.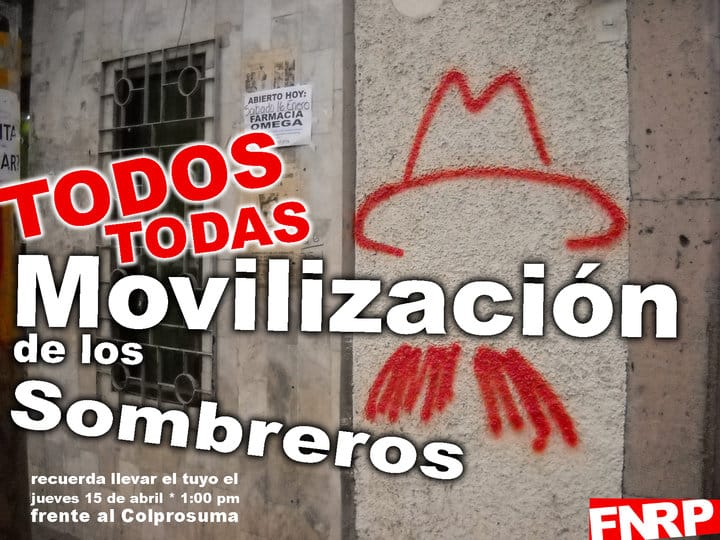 Long live the heroic struggle of the peasant movement!
We will resist and we will win!
Tegucigalpa, M.D.C.
12 April 2010
---
The original communiqué was published by Vos el Soberano on 11 April 2010.  Translation by Yoshie Furuhashi (@yoshiefuruhashi | yoshie.furuhashi [at] gmail.com).
---


|
| Print
---