22 February 2011
The Popular Front for the Liberation of Palestine demanded an immediate end to the bombardment and massacres against the heroic Libyan people, condemning the killing of demonstrators committed by the Gaddafi regime.
The PFLP demanded the protection of the Libyan people and their rights, and emphasized its support for the demands of the people of Libya and the Arab masses for freedom, human and national dignity, democracy, social justice, and the fight against corruption and dictatorship.
The Front demanded an immediate end to the bloody aggression and oppression and called upon all forces for rights and human dignity in the Arab world and relevant international institutions to act immediately to stop the shedding of Arab blood in the fields and streets of Libya, saying that the criminal regime cares for nothing but its own rule and livelihood at the expense of the enslavement of the homeland and its people.
The Front called for broad humanitarian and national solidarity with the people of Libya, calling upon all to participate in the rally called for by the Network of NGOs and National and Islamic Forces in Manara Square in Ramallah, calling for an end to occupation and division and solidarity with the Arabs in Libya and the Arab masses in all countries.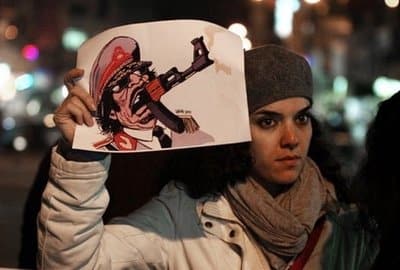 A Carlos Latuff cartoon of Gaddafi sighted in a Ramallah rally in solidarity with the Libyan people, 22 February 2011.  Photo by Abbas Momani/AFP.
---
This English translation of the PFLP statement on Libya was first published in the English-language section of the PFLP Web site.  The original statement in Arabic is available at <www.pflp.ps/arabic/news.php?action=Details&id=6634>.  Cf. <www.pflp.ps/arabic/news.php?action=Details&id=6643>.
---
var idcomments_acct = 'c90a61ed51fd7b64001f1361a7a71191';
var idcomments_post_id;
var idcomments_post_url;
| Print
---