The price decline since July has eliminated more than $1 trillion in housing wealth.
The Case-Shiller 20-City index fell by 1.1 percent in February, the fifth consecutive month where it has fallen by at least 1.0 percent.  It is now down by 6.5 percent from its peak in July.  Eighteen of the twenty cities had a drop in prices.  Washington, D.C. was again an exception with the market remaining flat.  Detroit was the one city that had a price increase in February, with prices rising by 1.0 percent.  Prices have been pretty much stable in Detroit over the last three months.  Prices may have finally hit bottom in the city.  Nominal house prices in Detroit have fallen back to the level they were at in the summer of 1994, which translates into a decline of more than 30 percent in real terms.  At these prices, investors likely see little downside risk.
The cities with the sharpest price declines in February were Chicago, San Francisco, and Minneapolis, which had price declines of 2.2 percent, 2.6 percent, and 3.1 percent, respectively.  Over the last three months prices have fallen at a 19.5 percent annual rate in Chicago, a 19.7 percent annual rate in San Francisco, and a 28.5 percent annual rate in Minneapolis.
Portland, Seattle, and Miami also saw rapid price declines in February.  Prices fell by 1.6 percent in Portland, 1.9 percent in Seattle, and 2.0 percent in Miami.  Over the last quarter, prices in these cities have fallen at a 16.7 percent, 22.5 percent, and 14.1 percent annual rate, respectively.  The rates of price decline in Portland and Seattle indicate that the bubbles in these cities are now deflating rapidly.  Prices in the Northwest had held relatively well earlier in the downturn.
The price declines are spread more evenly through the housing market than was the case in prior months, although the bottom tier continues to disproportionately suffer from the end of the first-time buyers tax credit.  In Denver, prices for bottom-tier houses fell 1.4 percent in February and have fallen at a 17.9 percent annual rate over the last three months.  In Chicago, they fell 4.7 percent in February and have fallen at a 28.4 percent rate over the last three months.  In Minneapolis, prices in the bottom tier fell 6.5 percent in February and have fallen at a 42.8 percent rate over the last three months.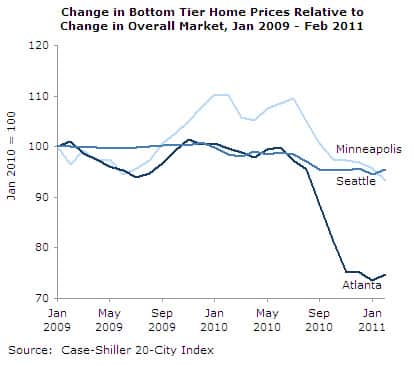 On the other hand, prices for homes in the bottom tier in Atlanta actually rose 0.6 percent in February, although they are still down 29.4 percent from their year-ago level.  While the market is still feeling the negative impact of many home purchases having been pulled forward by the tax credit, this effect will fade over the course of the year.
However, the housing market will undoubtedly remain weak absent some new source of stimulus.  Interest rates are up by more than 50 basis points from their low-point last summer and will almost certainly rise more over the rest of the year.  The labor market is also not likely to improve substantially, with the economy creating just enough jobs to edge the unemployment rate down by less than 1 percentage point a year.
The bubbles are likely to continue to deflate in the markets that have held up until now.  This is most obviously the case in the Pacific Northwest, where prices are now falling rapidly, but also in the California cities where the bubble still has substantial air.  The recent data also indicate that the price declines in Boston and New York may be accelerating.  Prices in Boston fell 1.5 percent in February and prices in New York have fallen at a 9.6 percent annual rate over the quarter.  Washington is the one city where there is little evidence that the market is turning down at this point.  Prices are still up 2.7 percent from their year-ago level.
The current pattern of price decline is likely to continue well into 2011.  Prices will probably decline at least 10 percent over the course of the year bringing real house prices back to their pre-bubble levels.
---
Dean Baker is an economist and Co-director of the Center for Economic and Policy Research, in Washington, D.C.  This article was first published by CEPR on 26 April 2011 under a Creative Commons license.
---


| Print
---