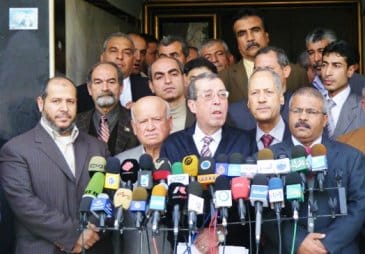 The Popular Front for the Liberation of Palestine hosted a meeting of all national and Islamic forces, including representatives of Fateh and Hamas, in its office in Gaza City, on February 14, 2010.  This meeting was the first of its kind to take place in Gaza since the internal division.
The objective of the meeting was to discuss ending the division and building a positive climate for national reconciliation, in order to confront the occupation, end the siege on Gaza, and achieve our national rights.
Comrade Jamil Mizher, member of the Central Committee of the PFLP, said that the meeting came at the initiative of the PFLP, saying that ending internal division was necessary in order to meet the challenges facing the Palestinian cause as a united force and a united people.  He said further that this meeting is a positive step toward ending the division and will be the first of a series of meetings that will take place in order to develop firm plans for ending the division and restoring national unity.
---
This report was published by the Popular Front for the Liberation of Palestine on its Web site; it is reproduced here for non-profit educational purposes.
---


|
| Print
---