The Consumer Price Index rose 0.1 percent in March.  Inflation stands at 0.9 percent annualized since December.  With the hourly wage of production workers falling by 0.2 cents over the month, the real wage has fallen at a 2 percent annualized rate, and remained flat over the last three months.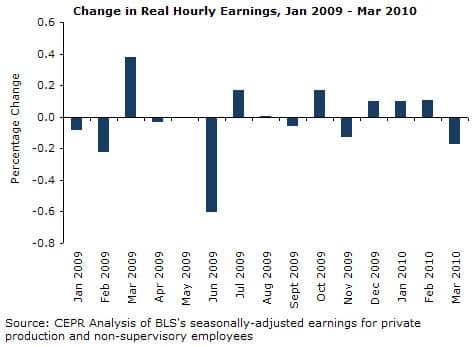 Core prices remained unchanged in the month and have now fallen at a 0.2 percent annualized rate over the last three months.  Ongoing deflation in housing continues to hold down the core rate of inflation.  While core inflation has grown under a 0.6 percent annualized rate over the last six months, non-shelter core inflation has grown at an annualized rate of 2.0 percent.
Owners' equivalent rent fell by 0.1 percent again in March.  From June 2008 to June 2009, owners' equivalent rent rose by 1.9 percent.  At that time, it was the lowest twelve-month rate of inflation since the BLS started tracking that data in 1983.  The rate of inflation for owners' equivalent rent for the last twelve months has been zero.
Primary rent tells a similar story.  Though rent rose 0.1 percent in the month, rent prices have risen only 0.2 percent in the last twelve.  Prior to this, rent prices had never grown less than 1.0 percent in any twelve-month period since World War II.
Also contributing slightly to the low rate of core inflation, apparel prices fell 0.4 percent in March — the fifth fall in the last six months.  Though apparel counts for less than 3.7 percent of the overall CPI, prices have fallen at a 2.6 percent annualized rate since September.
Transportation prices fell 0.1 percent in March, driven by ongoing decreases in fuel prices.  The price of used cars and trucks rose only 0.5 percent in the month — part of a continuing trend of disinflation in that sector as it gradually recovers from the cash-for-clunkers shortage.
Over the last three months, used car prices have risen at an 11.4 percent annual rate, compared to 32.5 percent the previous three months.  The price of new vehicles grew only 0.1 percent in March, and fell at a 1.2 percent annualized rate since December.  Because of this, price pressures will continue to slacken in the used car market as the supply of vehicles increases.
Upward pressure on core prices came from medical care prices — which rose 0.3 percent over the month — and hospital services in particular, which rose 1.0 percent.  The price of hospital services has risen at a 10.6 percent annualized rate in the last three months, and 8.6 percent over the last six.
Education prices also rose again in March, driven by a 0.6 percent increase in tuition and fees.  Over the last year, tuition rose 4.8 percent.  The rise was pronounced in college tuition, which climbed 6.0 percent over the last twelve months — compared to 2.3 percent growth in the overall CPI and 1.1 percent in the core.
The sharp rise in hospital services and tuition both point to state and local budgetary pressures.
Non-petroleum import prices fell 0.2 percent in March as inflationary pressures continue to abate.  Inflation in non-petroleum industrial supplies fell 0.7 percent over the month after rising 1.1 percent in February and 2.6 percent in January.  Similar trends exist in many non-fuel categories of imports, including unfinished metals, capital goods, and non-auto durable goods.
How these import prices play out through the economy may be more clear when the producer price index for March is released next week, but it is clear that what little inflationary pressure remains in the economy is tied to the need for state and local governments to raise money, rather than a general tightening in the economy.  Disinflaton, and even deflation, is present in many categories, and the real wage is effectively unchanged since December.
---
David Rosnick is an Economist at the Center for Economic and Policy Research in Washington, DC.  This article was published by CEPR on 14 April 2010 under a Creative Commons license.
---


|
| Print
---