The Labor Department reported that 652,000 people left the labor force in June, causing the unemployment rate to edge down to 9.5 percent, even as the number of employed reportedly dropped by 301,000.  The establishment survey showed a gain of 100,000 jobs, excluding the 225,000 Census workers who lost their jobs in June.  The establishment survey also showed declines in both the length of the average workweek and the average hourly wage, providing further concerns about labor market weakness going forward.
The employment-to-population (EPOP) ratio fell to 58.5 percent, reversing gains from the prior three months; although this is still 0.3 percentage points above the low hit in December.  This decline was concentrated among men who saw their EPOP fall by 0.3 percentage points, as their unemployment rate edged up from 9.8 to 9.9 percent.  The EPOP for women was unchanged, with their unemployment rate falling from 8.1 percent to 7.8 percent.
Black men were hit especially hard as their EPOP fell from 58.5 to 57.3 percent.  The EPOP for black teens fell by 1.8 percentage points to 14.4 percent, just above the all-time lows hit in November and December.
College grads seemed to do well last month with their EPOP rising by 0.2 percentage points and their unemployment rate falling by 0.3 percentage points to 4.4 percent, the lowest level since April of last year.  Workers without high school degrees had a 0.9 percentage-point drop in their unemployment rate to 14.1 percent, but this is associated with a drop in the EPOP in recent months.  By age, older workers continue to be outliers, with employment for those over age 55 rising by 20,000, even as it fell by 321,000 for everyone else.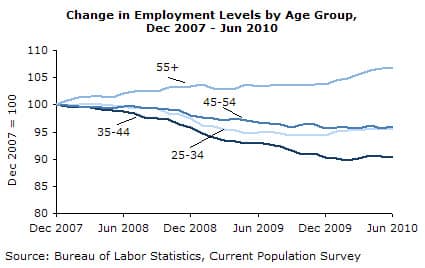 Other data in the household survey are also consistent with a weakening labor market, notably a decline to 6.2 percent in the percentage of the unemployed who have voluntarily quit their jobs.  The median and average duration of unemployment spells both increased to new records, 25.5 weeks and 35.2 weeks, respectively; although there was a modest decline in the share of long-term unemployed.  The number of discouraged workers was more than 50 percent higher than the June 2009 figure, with the number for men being more than 70 percent higher.
There is little basis for a hope of an improvement based on the establishment data.  The 100,000 private sector jobs bring the average rate of job creation to just 119,000 over the last three months.  With state and local governments shedding jobs at the rate of 13,000 a month over the same period, the rate of job creation over this period is roughly equal to the growth in the labor force.  And there are no obvious candidates for improved growth any time soon.
The manufacturing sector added just 9,000 jobs in June, after adding 70,000 over the prior two months.  With the workweek shortening by 0.5 hours, there is little reason to expect robust hiring.  Construction lost another 22,000 jobs, mostly in the non-residential sector.  This decline is likely to continue, although possibly at a slower pace.
The retail sector lost 6,600 jobs, its second consecutive decline.  Finance shed 15,000 jobs, 6,500 of the losses were in real estate following the end of the homebuyers tax credit.  Health care employment increased by just 9,300 in June, following weak growth in May.  The sector had been adding close to 20,000 jobs a month.  Employment services also showed modest growth of 35,800 after growing at twice that rate last fall.  And restaurants shed jobs for the second consecutive month.
The index of aggregate weekly hours fell by 0.2 percent after a big jump in May.  The May number may have been overstated, but clearly there is not much positive momentum here.  And wages grew at just a 1.0 percent annual rate over the last quarter.
With state and local governments cutting back to deal with deficits, house prices falling again, and wages not keeping pace with inflation, there is little hope for a robust growth any time soon.  It is likely that the unemployment rate will rise in the second half of the year.
---
Dean Baker is the co-director of the Center for Economic and Policy Research (CEPR).  He is the author of False Profits: Recovering from the Bubble Economy.  He also has a blog Beat the Press, where he discusses the media's coverage of economic issues.  This article was published by CEPR on 2 July 2010 under a Creative Commons license.
---


| Print
---