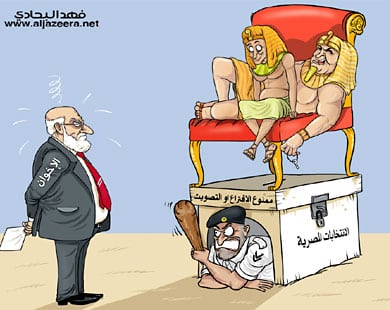 No voting for the Muslim Brotherhood
under the Mubarak dynasty. . . .
---
Fahd Bahady is a Syrian cartoonist.  This cartoon was first published by Al Jazeera on 25 November 2010; it is reproduced here for non-profit educational purposes.  The text above is an interpretation of the cartoon by Yoshie Furuhashi.  Cf. "Egypt: Systematic Crackdown Days Before Elections: Mass Arrests, Intimidation, Campaign Restrictions Make Fair Outcome Questionable" (Human Rights Watch, 24 November 2010); "Egypt Vote Unlikely to Bring Change" (Al Jazeera, 27 November 2010); "What a day!!  If the regime has proven anything today, it is nothing but this: Elections do NOT change anything in this country, and the road to change will hardly be peaceful" (Hossam el-Hamalawy, "Street Battles Rock Egypt Vote," 28 November 2010).
---


| Print
---