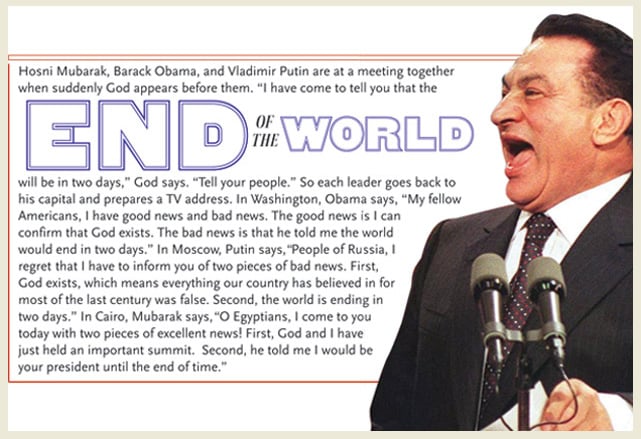 The Interior Minister asks Hosni Mubarak to write a "Farewell Letter" to the Egyptian people.  Mubarak replies: "Why?  Where are they going?"
On a popular Egyptian radio show, the deposed president of Tunisia Zine El Abidine Ben Ali requests Nancy Ajram's song "I'm Waiting for You" . . . and dedicates it to Egyptian President Hosni Mubarak.
Egyptian President Hosni Mubarak dedicates a song to his people: "I May Get Upset with You, But I Will Never Leave You" (a famous song by Nancy Ajram).
Hosni Mubarak calls Zine El Abidine Ben Ali: "If you go to bed early tonight, will you please leave your hotel room key under the doormat for me?"
Egyptian President Hosni Mubarak immolates himself in front of the Presidential Palace, demanding a change of "the people."
---
Courtesy of Zaineb Alani.  Cf. <www.al-akhbar.com/node/3618>.
---


| Print
---