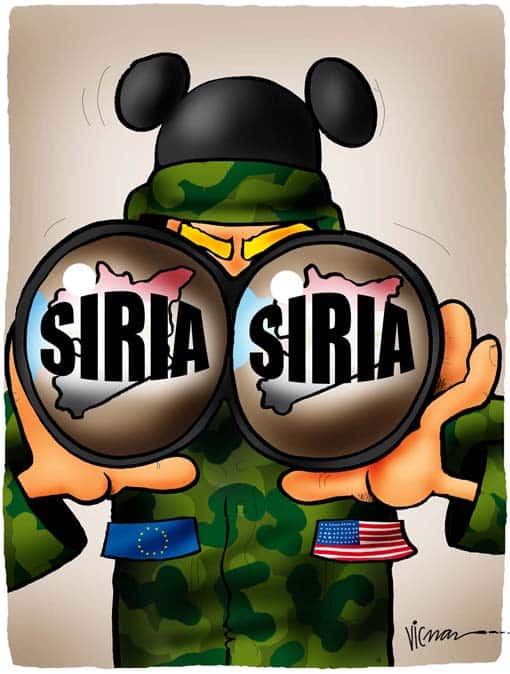 ---
Victor Nieto is a cartoonist in Venezuela.  His cartoons frequently appear in Aporrea and Rebelión among other sites.  Cf. "Lebanon: Saad Hariri Calls for Syrian Regime Change; Maybe Iran Too" (24 August 2006, leaked to WikiLeaks, published in Al-Akhbar); "Turkey Comments on Syrian Ihvan's Meeting in Istanbul" (World Bulletin, 2 April 2011);

المراقب العام للأخوان المسلمين في سوريا يؤكد ادعاءات النظام السوري حول وقوف"الجماعة"وراء التظاهرات!؟

(Al-Hakikah, 3 April 2011); Joshua Landis, "Disinformation about Syria in Western Media" (14 April 2011); Craig Whitlock, "U.S. Secretly Backed Syrian Opposition Groups, Cables Released by WikiLeaks Show" (Washington Post, 17 April 2011); Fahd Alaragha Almasry, "Former Syrian Vice President Launches Campaign against Assad" (Al-Masry Al Youm, 19 April 2011); <en.wikipedia.org/wiki/Wissam_Tarif>; "Wahhab Reveals Photos of Checks Addressed to Jarrah and Khaddam from Saudi Prince Turki bin Abdul Aziz" (Naharnet, 23 April 2011); "Syrian Expats Want Obama to Push for Regime Change" (Al Jazeera, 23 April 2011); نادر عزالدين
,

ثورة أميركية في سوريا وغرفة التحكم بين بيروت و"بارك أوتيل شتورة"

(Al-Manar, 24 April 2011); As'ad AbuKhalil, "Who Are 'They'?" (The Angry Arab News Service, 24 March 2011).
---
var idcomments_acct = 'c90a61ed51fd7b64001f1361a7a71191';
var idcomments_post_id;
var idcomments_post_url;
| Print
---